M&Ms rewards NASCAR fans who make race day "Better with M"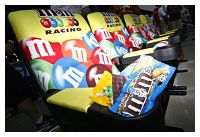 March 15, 2013 – M&M'S fans, now is your chance to take your NASCAR race day experience to the next level with upgrades all geared toward making race day 'Better With M.' As the "Official Chocolate of NASCAR" and sponsors of the popular No. 18 M&M'S Toyota, the brand will bring the 'Better With 'M' platform to life in NASCAR by recognizing and rewarding devoted race fans who incorporate M&M'S into their race day rituals.
In February, Mars Chocolate North America introduced its plan to make occasions 'Better With M' by showcasing how M&M'S irresistible chocolate makes moments more fun and delicious. 'Race Day is Better with M,' is a fun, NASCAR-themed twist on the national campaign.
"Cheering on the No. 18 M&M'S Toyota while enjoying M&M'S has been a race day tradition for fans since the brand burst onto the NASCAR scene," said Roy Benin, Chief Consumer Officer at Mars Chocolate North America. "Now, we're taking that enjoyment to the next level by offering upgrades to fans who show us how M&M'S are part of their race day routine, both at home and at the track."
M&M'S will visit six NASCAR race events during the 2013 NASCAR Sprint Cup Series season including the Bristol spring race, the spring and fall races in Charlotte, Sonoma, Atlanta, and the fall New Hampshire race in search of race fans and chocolate-lovers alike who put their affinity for M&M'S on display. The brand will reward them with race day plus ups – including branded race gear, free product, and the chance to be upgraded to the "Best Seats in the House" on race day.
In addition to the at-track spotter program, M&M'S will actively encourage race fans to showcase how they use M&M'S during their race day ritual at home via the hashtag, #BetterWithMMS, on Twitter for additional chances to win upgrades.
M&M'S and NASCAR have a rich winning partnership and the 'Better With M' platform is just the newest fan-focused initiative from the brand in 2013 and builds upon the success of the 'When We Win, You Win' Promotion, which provides fans the chance to win a new Toyota every time the No. 18 M&M'S Toyota visits Victory Lane in 2013.
For more information on how M&M'S is making race day 'Better With M' and to check out the fan-focused upgrades all season long, visit www.facebook.com/mmsracing.