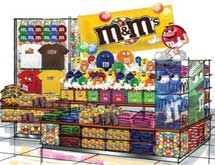 Mars Retail Group (MRG) recently underwent a significant transformation. Three years ago, the Nevada-based organization became responsible for managing the licensing division of Mars, Inc., a privately held company that generates more than $30 billion in annual revenue and employs roughly 70,000 individuals.
Prior to the restructure, Mars Snackfood ran the licensing program, which at its peak consisted of 12 licensees. As a result of the effort put forward by the team at MRG in the last three years, the licensing program has grown more than four-fold and is now made up of 50 licensees.
According to John Capizzi, general manager of licensing, the program was moved to MRG because the growth strategy called for a redesign that aligned it with other areas handled by MRG, like the M&M's World stores. "Our licensing business brings our products to retailers across the globe," Capizzi said. "Because it's now run out of our office, we can create synergy and bring the ideas that have made our World stores successful to our licensing program and implement them there."
Capizzi went on to explain that the M&M's World stores have proven successful because they create a unique experience for customers and deliver a "Wow" factor. Through its licensing program, the team at MRG is working with licensees and retailers to recreate this experience, albeit on a much smaller scale, at stores where Mars products are sold.
This can be achieved through an appropriately designed end-cap display, for example, which might tie products together according to a specific theme or seasonal event. Capizzi said this design works for two reasons: it arouses excitement in the customer, and it allows retailers to select specific products and create original displays, subsequently differentiating themselves from competitors.
"Our program is structured to give retailers a lot of flexibility," he said. "We want to bring the excitement of an M&M's World store into their locations, but we also want them to be able to create something unique that aligns with their existing environment."
Currently, MRG is working with its master licensee, Summit Resources International (SRI), to help retailers create back-to-school displays that attract college-aged customers and include an assortment of T-shirts, loungewear, alarm clocks, and novelty products.
Exploring different markets
Mars was founded in 1911. The company is still headquartered in the US, but its footprint is supported through 250 administrative offices and factory locations in 67 countries across the world.
"We could add another 50 licensees in short order, but we want to make sure we properly manage our existing licensees before we even think about expanding in that respect," he said. "Our current group has a lot of growth potential. Right now, we're focused on looking at different areas we want to become involved with—defining the white space and slowly filling it in. A big part of this plan involves expanding our international presence."
To execute accordingly, the team at MRG plans to partner with some of Mars' regional divisions. "We will do a slow roll out to the international divisions, communicating our capabilities and product breadth to each of them," Capizzi added.
What's in a name?
Although MRG's licensing program is relatively young compared to programs that support companies of a similar size, it is extremely strong. Many of the brands that Mars sells products under are well known to individuals across an assortment of demographics. People of all ages, for example, are familiar with the M&M's brand and, at the very least, its namesake product.
Capizzi and his team are capitalizing on the popularity of their key brands by tying the company's candy division into its licensing program. He calls this the "one voice" strategy.
"Fortunately, we have both an iconic brand and recognizable characters, and we can bring them together in a meaningful way, which helps us differentiate our licensing program from our competitors' programs," Capizzi said. Whenever MRG looks to execute "one voice" on a new platform, it calls on its most reliable licensees, like SRI or CandyRific, first.
To support the growing program, Capizzi and his team are about to introduce an online software system that will help them manage their licensees. The system will allow the team to transmit data more efficiently and will create a shared server that will allow all parties involved in a project to access relevant information.
"When a licensee submits a design for approval, we need to receive that information, review it, and get any critiques back to them as quickly as possible," Capizzi explained. "The process can take a while if you don't have adequate resources to manage it. Our licensees also have to live up to certain commitments at the retailer level, so our turnaround is important in that respect as well."
Considering today's economic climate and the impact it has had on retailers, efficient processes are more vital than ever as retailers struggle to find new ideas that might help keep their doors open. At MRG, Capizzi and his team have been fortunate enough to witness their organization's continued growth despite the recession.
"In a great economic environment, we would probably be seeing more growth than we are right now, but during a time when a lot of companies aren't even hitting their bottom line, we're fortunate to be growing at this pace," Capizzi said. "During times like these, consumers look to brands they know and trust. In addition to our reputation, most of our products are very affordable. Candy in particular is considered somewhat recession-proof."