This year, the El Segundo, Calif.-based multinational toy manufacturing company – also known for brands that include Hot Wheels, Thomas & Friends and Fisher-Price – is breathing new life into its brands. Leading the franchise management function is Janet Hsu, Mattel's new chief franchise management officer – a role that Mattel created last year to drive its intellectual properties to new heights through consumer products, strategic partnerships, content, digital gaming, live events and licensing ventures.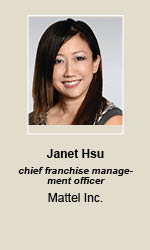 "We are trying to synchronize all efforts to drive maximum impact," Hsu says. "It's about driving the levers outside of toys to expand the brands and drive a much more connected execution from content to commerce."
Hello, He-Man
One of the first new examples of how to drive this new franchise management approach is through Mattel's Masters of the Universe brand led by He-Man, a superhero with superhuman strength that has starred in a series of comic books, several animated television series and a 1987 movie. "Masters of the Universe is a brand that has a huge fandom that started in the 1980s and continues to today, but the brand has been dormant," Hsu says. "We believe there's a huge opportunity here to connect with new fans and families."
Mattel has partnered with Sony Pictures to make a "Masters of the Universe" film which is based on Mattel's beloved toy line that centers on the warrior He-Man, the last hope of a magical planet called Eternia. Actor Noah Centineo – who starred in the 2018 Netflix romantic comedy "To All the Boys I've Loved Before" and "Sierra Burgess Is a Loser" – has been cast to play He-Man.
"We've chosen five different brands that will be made into films and 'Masters of the Universe' is one of them," Hsu says. "It's an opportunity to connect with our fans in an amazing way." The other films are "Barbie" and "Hot Wheels" in partnership with Warner Brothers and "American Girl" and "View Master" with MGM Studios. "There will be a lot of activity on this front in the next couple years," Hsu adds.
In addition to movies, Mattel has new episodic TV content on the horizon with 22 shows in development between its many brands and is taking a very proactive digital approach to engage with fans and consumers. That includes an active influencer strategy, new digital content and a strong partnership with YouTube, Facebook, Instagram and other social media platforms.
Being Barbie
She's the most famous fashion doll in the world that has inspired dreams and a limitless potential in millions of young girls. "Barbie has always been a fashion brand and pop culture icon," Hsu says. Barbie, who is celebrating her 60th birthday this year, is a brand that continues to evolve to be a modern, relevant role model for all ages. To celebrate the anniversary, Mattel kicked off worldwide celebrations.
The brand is collaborating with partners across multiple categories including apparel, publishing, food, beauty and travel to celebrate the milestone. "We have amazing events planned that will take a historical look at what Barbie has represented and what she represents today," Hsu says. The events include an immersive Barbie pop-up experience in New York City which took place in March and a Barbie "Be Anything" Tour that runs through October at a total of 36 participating Walmart locations in the United States.
In addition, "Barbie Presented by Amazon" pop-up stores were introduced in five major U.S. markets from February through March and in-store activations in participating Target locations that featured exclusive Barbie-themed apparel and accessories line for girls ages 5 to 10 from February through April.
Mattel also created new content to celebrate the anniversary with a "Barbie Vlog" that encourages girls to find their voice and support each other. Empowering Girls To further establish Barbie as the ultimate girl empowerment brand, Mattel is launching an assortment of anniversary doll collections. That includes a career-themed collection with Barbie as a pilot, astronaut, journalist, political candidate, athlete and firefighter.
"One of the big messages that we are sending out is that girls can be anything they want," Hsu adds. "And this line demonstrates that." Mattel also released an aspirational apparel collection for girls ages 5 to 10 years that were sold at select Target locations. Other partners for clothing, beauty and accessories include Amazon, Unique Vintage, Sephora, Puma, Bape, and American Tourister.
There's even a Barbie-themed room at the Hilton Mexico City Santa Fe, 60th anniversary coins through Perth Mint Australia, a collection of Barbie career-inspired candies from Sugarfina and a "Barbie: Sixty Years of Inspiration" book from Assouline.
"Shero," Not Hero
To further establish Barbie as the ultimate girl empowerment brand, MFurthermore, Mattel has continued their "Shero" program which celebrated women who are breaking boundaries to inspire the next generation of girls. Timed to the anniversary in March, Barbie honored more than 20 role models across multiple countries and continents ranging from 19 to 85 years old and speaking 13 languages.
Mattel will unveil many of the elements that make up its new content-to-commerce franchise approach at the Licensing Expo 2019, which takes place June 4 to June 6 in Las Vegas. The company is also continually creating new content for its other brands including Hot Wheels, Thomas & Friends, Polly Pocket and many more. "We're really excited about bringing the different consumer experiences of a brand to life and unlocking the full potential of our iconic treasure chest of intellectual properties," Hsu says.