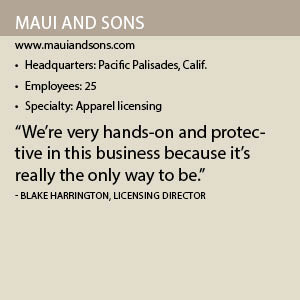 Maui and Sons further distinguished itself with the illustrations of artist and cofounder Rick Rietveld. His colorful paintings of sharks and palm trees evoked Pacific Coast attitude and appeared in the pages of local newspapers and surf magazines. "The art was a very important aspect of the company," Licensing Director Blake Harrington says. "At the time it was a revolutionary idea because most of the surf apparel companies were using active lifestyle shots."
Harrington's father, Richard Harrington, became involved with Maui and Sons in 1983. A veteran of the skateboard business, Richard Harrington's international customers were looking for a California lifestyle brand and he realized Maui and Sons' style and attitude could fulfill that demand. Harrington's skateboard business, X-Caliber, became the first licensee to sell Maui and Sons merchandise internationally.
The popularity of the license exploded over the next several years, but by 1987 Maui and Sons had grown too large. A shoe launch failed and the company suddenly found itself with too much inventory. The founders were forced to file for bankruptcy.
However, Richard Harrington still believed in the value of the Maui and Sons name. That same year, he purchased the brand's trademarks and became the sole owner of the company.
Staying Relevant
Fashion is a cyclical thing. Fads that were popular in the 1980s and '90s are reemerging today. Maui and Sons is well positioned to take advantage of that nostalgia by reintroducing the brand through new products and clothing lines.
"Maui and Sons is an older brand so the younger generation might not have grown up with it because they weren't alive when the brand was at its height," Blake Harrington says. "Fortunately, we've been able to build up a customer base in the last six to seven years and now the younger customer is seeing us and wanting us."
Much of that success in reintroducing the brand to a younger generation is because of Maui and Sons' licensing efforts. "The most successful part of our business over the last 30 years since Richard took it over has been the licensing aspect of it," Harrington says.
Each time a trend resurfaces it evolves to fit modern sensibilities and designs. Although Maui and Sons updates the brand, those classic styles and illustrations are the essence of the company.
To ensure that it maintains that signature look, Maui and Sons has a warehouse stuffed with every illustration and piece of merchandise the company has ever created. Those items act as reference materials for the company and its licensing partners to create new products that embody the heritage of the Maui and Sons brand. "We encourage [our licensees'] design and creative teams to come over and we 'Maui-ize' them so they understand the culture of the brand," Harrington says.
International licensees have used those classic designs to adapt the brand to their own product lines. Spain's ZARA, for example, offers a parka adorned with Maui and Sons-style sharks and an oversized shirt with a classic Maui and Sons illustration on the front pocket.
"Our mission and our goal as a brand is to continue with the supply of these style guides and our art direction, but at the same time back them up with artwork and marketing materials that support that California beach lifestyle," Harrington says.
Licensing partnerships have brought the Maui and Sons brand to more than 120 countries. Despite that global presence, the company has managed to maintain its image because it takes an involved approach with each licensor. "We're very hands-on and protective in this business because it's really the only way to be," Harrington says. "Otherwise you can lose your aesthetic and integrity of your brand."
Embracing Opportunity
Those style guides are an example of how Maui and Sons actively engages with its international licensees, but back home the company handles its products mostly in-house. In 2010, Maui and Sons began manufacturing its own apparel for the domestic market, supplying items directly to retailers.
The company supplies to a range of retailers, from fashion boutiques such as Fred Segal to larger stores such as Pac Sun, Amazon and Macy's. Nearly 300 independent surf and casual boutique shops now carry Maui and Sons products in the United States.
The company takes pride in its heritage, but there are still opportunities for new ideas with the brand. About five years ago, Harrington's uncle visited Thailand and returned with a plan to produce coconut water under the Maui and Sons label.
Harrington and his father realize the healthy product fit the active lifestyle of the company's image and began selling 400 ml drinks. Since then, it has expanded into coconut chips, coconut oil and fruits such as chocolate covered banana chips and dried mango. The products can be found internationally and in U.S. stores such as Sprouts and Walmart. "It's become a substantial part of our trading business," Harrington says.
New ideas will continue to drive Maui and Sons in coming years. The company is looking for a kidswear license and recently launched its e-commerce platform. It is even in talks with a movie studio to license its popular Sharkman character for a Polynesian-inspired feature film. "We're really starting to capitalize on that and we see loads of opportunity there," Harrington says of the character.