Mavatar Launches iPad App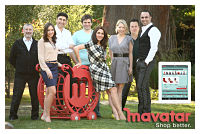 May 9, 2013 – Mavatar Technologies announced the company's launch of their free, game-changing iPad app, allowing consumers to comparison shop across multiple top retailers while also automatically searching for the best available coupons and promo codes. The company recently received one million dollars in seed funding from Super Angels and just came off a show last week at Tech Crunch's Startup Alley. This iPad app and web browser add-on saves consumers' time and money shopping online, while ensuring them they're receiving the best possible deal online by finding all valid promo codes and automatically applying them with the users' saved personal deals at checkout.
Mavatar changes the online shopping experience to make it streamlined and organized. The app allows users to create one wishlist with all their saved items in one place, regardless of the store, thus eliminating the need to manage multiple lists. Birthday, holiday, and wedding gift shopping just became much simpler, efficient and way more fun. Plus, Mavatar's users have a more social shopping experience than non-users through its ability to store all personal coupons in one place, making it easy to share them with family and friends.
Newly added stores Saks Fifth Avenue, Levi's and Quicksilver join the other supported stores including favorite brand names Macy's, Nordstrom, Neiman Marcus, Banana Republic, Gap, and Old Navy, as well as other top retailers such as Bloomingdale's, Athleta, Bergdorf Goodman, Horchow, Last Call, and Piperlime. The company is adding more stores at a rapid rate and soon plans to have hundreds of them supported through its platform.
"To imagine we would have received such an initial positive response from the technology community and the media during our pre-launch period, is such a great validation for an idea that came to me during a Stanford Graduate School of Business class," said 2010 graduate, Susan Akbarpour, co-founder and President of Mavatar. "The topic was user data and the professor was key seed investor, Jeff Moore. His investment, as well as the support of the rest of our seed investors and Advisory Board is a testament to the potential power and influence Mavatar will have over the e-commerce space."