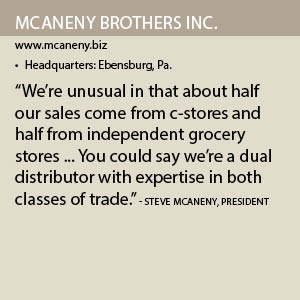 As McAneny Brothers grew, the company relocated several times to bigger, more efficient locations. Today, the Ebensburg, PA-based company's 172,000-square-foot headquarters sits on 17 acres in the Cambria County Industrial Park. The company is a wholesale food, produce and meat distributor to regional convenience and grocery stores throughout Pennsylvania, Ohio, Maryland, West Virginia and New York.
"My brother, Joe, was the visionary of the company even back when we were just beginning to grow," McAneny says. "The owner of a produce company in our community had passed away and his wife was getting out of the business, so Joe suggested we should get in the produce business. It was a challenge, and there was a real learning curve, but we did it.
"Then a few years later, a national meat packer was closing its local distribution center, so we were fortunate enough to hire the people running that facility, a move which put us in the fresh meat and deli business," McAneny continues. "This took us from being a convenience store supplier to also being a secondary grocery supplier."
Today, McAneny Brothers offers everything to fully stock convenience stores as well as a complete range of products for grocery stores, including produce, deli, meat, bakery, and dairy items.
"In today's world of super-size, specialized distributors," McAneny notes, "we're unusual in that about half our sales come from c-stores and half from independent grocery stores … You could say we're a dual distributor with expertise in both classes of trade."
Meeting Demand
When McAneny Brothers says fresh produce, they really mean fresh. "We buy direct from growers in California, Florida, Idaho, Mexico, South America, and in season we buy a lot of local produce, so we absolutely have the freshest product possible," General Manager Bob Hasse explains. "We have more than 2,000 SKUs in produce – strawberries are our No. 1 unit item. We stock whatever is fresh and in season, and we pack it the way our customers want.
"We focus on some of the things that others may not," he continues. "For example, we serve a lot of independents, small businesses with maybe seven or twelve stores. These are often local companies who don't have the resources of the big national chains. We help them compete with everything from menu boards to equipment."
McAneny Brothers is good at perishables and foodservice, and it shares that know-how. Today, c-stores are becoming like restaurants and groceries are becoming like your home kitchen. People stop at the c-store for breakfast or lunch. At the grocery store they want the makings for supper.
Consumers want something they can prepare quickly, that tastes good, and maybe is a little different from what they had last week. So McAneny Brothers makes sure its customers have the newest greatest recipes and all the popular new items, everything from frozen macaroni wedges to pierogi pizzas and even trendy general merchandise like fidget spinners.
"Having those kinds of items many times can separate a smaller store or regional chain from a national competitor. Those are the things we try to do," Hasse says. "Our customer service really is outstanding."
"Steve has a motto we follow: 'If we aren't there when you need us, at the price you need us, you don't need us for very long.' There's wisdom in that," notes Hasse. "We work hard to deliver value for each and every customer. It's the root of our success."
Facility Improvements
Several times over the past decade, McAneny Brothers took advantage of growth opportunities. "We're always very optimistic about the future," McAneny says. "After all, everybody eats, and food's what we sell. The market is there."
Recently, McAneny's management team decided it was the right thing to do to expand the facility. "We were looking specifically at the next five years," Hasse says. "And so we added 53,000 square feet to our distribution facility. This effectively doubled our dry goods storage. At the same time, we installed a new picking and mezzanine system. Now we can separate more and more to a single-pick convenience store distribution area that is different from the mainstream picking of full cases."
With its warehouse expansion now finalized, McAneny Brothers continues to gain ground. "Our distribution territory has increased a lot in the last five to eight years," Hasse notes. "We're focused on growing our customer base. When we go into a region, we try to get a few anchors, small chains or independents. Our sales team goes to work and makes intros to all the groceries and c-stores. We explain how we can help those stores and often their managers or owners are willing to give us a try. After that it's all about product mix and service, which we do very well."
Moving forward, McAneny Brothers has a number of second-generation family members on board and learning the business. "The vision is just to continue doing what we have been, that is deliver good fresh product, keep the best of the old, integrate the new and listen to our customers," Steve McAneny says. "We are going to stay dual focused on convenience and grocery stores. We're working hard."