Meijer Marks Milestone with 200th Store Opening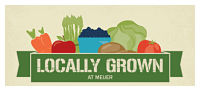 May 9, 2013 – Meijer will open its 200th store in Swartz Creek, Mich. on May 16, continuing its commitment to support the communities it serves by creating more than 200 jobs and buying fresh, local produce, Meijer Co-Chairman Hank Meijer announced today.
"We're excited to continue to see our company grow in Michigan," Meijer said. "We started local, and we feel it's important to continue to focus on the communities where we're located. Whether it's through donations to local food banks like the Swartz Creek Food Bank, or in supporting farmers across the Midwest, we're focused on growing together with our customers and our surrounding communities."

The family-owned retailer, which opened its first store in 1934, will mark the milestone opening with a 10 a.m. ribbon-cutting celebration at the store, located at 4141 Morrish Road in Swartz Creek. The ceremony will include remarks by Meijer officials, along with presentations to the Swartz Creek Food Bank and the Swartz Creek Civic Center enhancement project.
The Swartz Creek store is the first of six new stores the Grand Rapids, Mich.-based retailer will open this year in Michigan, Indiana and Illinois. It also represents a portion of the more than $160 million planned investment in new and remodeled stores Meijer is making this year throughout the Midwest.
"I am very happy that we now have a Meijer store in Swartz Creek for my own use, and for our citizens to use," Swartz Creek Mayor David Krueger said. "I'm sure that our citizens are going to love the convenience of having the store here, and the many job opportunities that Meijer brings."
At approximately 190,000 square feet, the Swartz Creek Meijer was built to Leadership in Energy and Environmental Design (LEED) standards. It will offer competitive prices customers have come to expect and includes a drive-thru, full-service pharmacy offering the retailer's free prescription program for oral generic antibiotics, prenatal vitamins, and medications for those with diabetes and high cholesterol. The store will also feature a gas station, a wide selection of general merchandise, including apparel, electronics, and pet items, and a robust grocery department with national and Meijer own brand items.
Meijer is also one of the largest purchasers of many fruits and vegetables in the Midwest with an economic benefit of more than $80 million annually. Today, Meijer published an infographic showcasing its commitment to locally grown and the relationships it has with more than 100 growers in the Midwest, providing customers with fresh produce year-round.
"Meijer has a longstanding commitment to buying locally grown produce when available as long as the quality meets our high standards," said Jerry Suter, vice president of fresh for Meijer. "It's just one way Meijer supports the communities it serves, and it's an initiative that has expanded during the past 5 years as the focus on local became more important to our customers."