Memorial City Mall Adds Seven New Retailers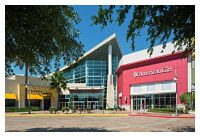 May 5, 2014 – MetroNational, owner, manager and developer of Houston's Memorial City, announced today the addition of seven new retailers to the epicenter of their mixed-use property, Memorial City Mall. With the growth of Houston, the affluent demographic within the West Houston area, and the mixed-use nature of the greater Memorial City community, including residential, retail, medical, office and hospitality, the mall continues to shift towards better-bridged tenants, keeping up with its growing consumer base. Seven new retailers—some of which include Vera Bradley, Banana Republic, Soma Intimates and Chico's—will open their doors on a rolling basis.
The Memorial City Mall has seen growth since a remerchandising and previous construction overhaul, completed in 2003, and in the past year saw annual sales per square foot approaching $800. Cemented with the addition of retailers like Michael Kors, Bare Minerals and The American Girl store (which opened in 2012 and remains the only location of its sort within a 200-mile radius) as well as a full NHL-sized ice rink, best in class play area and double-decker Italian carousel, the Memorial City Mall has transformed into a premiere shopping location and family destination for locals and visitors alike.
"Our success in bringing on new tenants is a direct result of our current tenants' retail volumes and the increasing growth and density of the surrounding market," said Danna Diamond, Director of Retail Leasing, Memorial City. "With over 2 million square feet in office space, multi-family residences within walking distance and proximity to the West Houston area, our tenants are able to tap into a range of customer demographics and convert sales."
Robert Wallstrom, Chief Executive Officer of Vera Bradley, noted, "We are very excited about opening our Vera Bradley store at the Memorial City Mall this May. We have many loyal fans in Houston, and we are anxious to share the Vera Bradley experience with both our existing and new customers in this wonderful showcase location."
Construction at the Memorial City Mall is ongoing as both the new retailers and current tenants look to tap into the realized affluence of the Memorial City Mall.