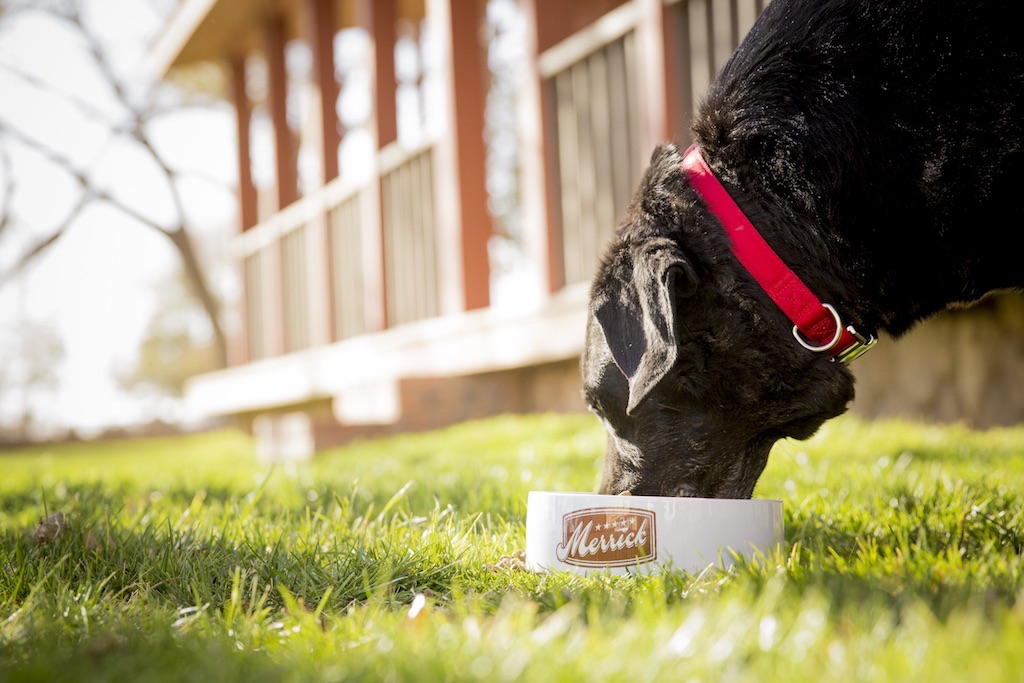 Merrick Pet Care stays true to its roots as it continues to gain marketshare,
believing 'The Best Pet Ever Deserves The Best Food Ever.'
By Janice Hoppe-Spiers, Knighthouse Media
What was once considered a niche segment, natural and organic pet food has become mainstream as demand continues to rise and owners focus more on the overall health and well-being of their four-legged family members. For the past 30 years, Merrick Pet Care has stayed true to its roots and core purpose of creating and delivering superior products to improve the lives of pets.
"If we continue to stay true to that, I don't think there's anything stopping the company to becoming the next billion-dollar business in pet specialty," CEO Tim Simonds says. "From 2010 to today, we've seen 10 times worth of business growth and are the No. 3 brand in natural pet specialty. We feel like we have a strong growth agenda in front of us."
Garth Merrick founded the Amarillo, Texas-based company in 1988 with his wife, Susie, and their four children and their "Best Dog Ever" at his ranch in Hereford, Texas, just outside of Amarillo. Their goal has always been to make the wholesome, nutritious recipes that pets deserve.
Merrick entered the natural pet specialty industry with Flossie, a natural dog treat, which found instant success. When the orders kept rolling in, Merrick set his sights higher and created an all-natural, high-protein dog food using only the freshest, highest-quality ingredients he could find. "We added wet food that was produced in a unique way and we still do today – our recipes are hand-stuffed and hand-packed," Simonds notes. "We then moved into the dry food business in 2011, and that's where you saw the business grow tenfold."
Under the leadership of former CEO Greg Shearson at the time, Merrick grew from a niche brand to the No. 3 natural brand in the pet specialty retail channel. "The team spent a lot of time thinking about what success really is and committed themselves to be the recognized leader in natural and organic pet care, achieving that by truly delivering superior product that improves the lives of pets," Simonds says. "A lot of companies may say similar words, but when you look at the way we produce and create our products, the care we put into it is truly different. We hand stuff real carrots, potatoes and whole chicken wings into our wet food; no one else does that."
Today, Merrick offers a wide variety of high-quality dry and wet foods, as well as treats, for dogs and cats across its premium product portfolio, which includes the Castor & Pollux, Zuke's and Whole Earth Farms brands and its signature Merrick brand.
Superior Innovation
Over the past three years, Merrick has received a number of awards in the marketplace for product innovation. Its most recent developments include the Limited Ingredient Diet, Lil' Plates and Backcountry product lines. "Backcountry is a perfect example," Simonds says. "Pet parents are responding to ancestral diets and we see growth in that segment, but no one was taking a kibble plus whole pieces of raw, freeze-dried meat, poultry or fish, and positioning that against an ancestral diet."
Merrick launched its Limited Ingredient Diet line three years ago and it quickly became the top selling product in its portfolio. Since then, the company has seen pet parents respond to potato-free and an even cleaner label deck, which is why it upgraded the line this summer to remove potatoes from the entire product line. "We now offer eight key ingredients or less, making something good into something that was truly great," Simonds notes. "That's been the dedication of our team is focusing on superior products and that has driven our innovation cycle and the choices we make going to market, and across the board."
Merrick expects to continue seeing strong growth in natural, grain-free and organic pet food as key consumer trends. When the company notices a new trend, it figures out how to fast follow that trend and do it even better. "The company has been historically built, and it is in our DNA, to be scrappy and agile," Simonds notes. "That's a core value of the company."
To keep up with consumer demand for its products, Merrick recently doubled the size of its plant in Hereford and added capacity to its wet food plant. "Our second core value is around humility," Simonds adds. "This company was started by Garth Merrick in his kitchen and we are incredibly proud of our roots in Hereford and celebrate that legacy."
'Purrfect' Partnerships
Although some natural brands have abandoned pet specialty and expanded distribution to the big-box retailers, Merrick will continue to stay dedicated to pet specialty retailers. "We see a ton of growth in that marketplace and in the partnerships we've built with pet specialty retailers," Simonds says. "The reason for that is consumers seek knowledge and pet specialty retailers have a strong sense of understanding around pet nutrition and expertise that can drive recommendations that you don't get in large mass merchandised retailers."
For example, if a pet suddenly develops an allergy or sensitive stomach, pet owners can rely on the expertise of pet specialty retailers to help them navigate the sea of choices. "You want someone to help you through that process," Simonds says. "It's easy to get confused by the choices in front of you and pet specialty retailers truly help you get to the food that's right for you based on companies doing things in the right way, which we truly believe we are."
In addition to pet specialty retailers, Merrick three years ago partnered with K9s For Warriors, a charity and veterans service organization that provides service dogs to veterans. "The organization rescues dogs out of shelters and trains them to be services dogs to help rescue veterans with PTSD," Simonds explains. "They rescue the pet and the warrior. We are funding research with Purdue University to help prove to the VA that service dogs are an effective form of treatment for PTSD." Merrick also introduced its Backcountry Hero's Banquet line to raise further awareness for the partnership with K9s For Warriors.