Michigan State University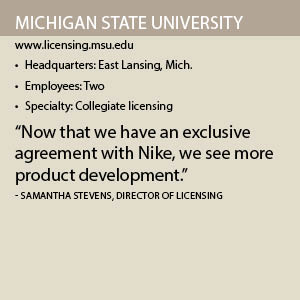 In choosing its key licensees, MSU looked at what made each licensee different from others and what kind of commitment they were willing to give to developing and promoting new products as well as growing the Michigan State brand. "We want to see more of an investment in our brand overall so we know they're serious about the license to use our marks," Stevens explains.
By refining its number of licensees and emphasizing the partnership aspects, the university has ensured the best MSU products are reaching the right retailers to meet the needs of its consumers. "Now we are more focused on delivering better quality product for our MSU fans and making sure it's not just a race to the bottom where our vendors are undercutting each other," Stevens says.
Setting Standards
For college students, alumni and athletics fans, owning a piece of MSU gear is a connection to the school they love; a reminder of the friendships they formed, the campus where they lived or the team they support. It's a declaration of the shared experiences that bond the MSU community together.
The sale of each piece of MSU gear ends up supporting the school they love. After program operating expenses, every dollar raised by MSU's licensing efforts goes toward student scholarships and special programing, such as student events and concerts. More than $6 million was raised for the university through licensing in 2016. "For us, it's more than buying a cool new T-shirt that comes out or the latest hat," Stevens says. "It's about supporting something bigger that's impacting others."
Because there is such an emotional attachment to the MSU name, it's important for the licensing department to protect the brand. When a licensee is developing a new product, it must submit art samples to MSU's licensing team for review and approval, giving the university control over where and how its name appears.
Those quality standards go beyond the physical products. Licensees must sign onto MSU's labor code of conduct, signifying they understand the university's expectations for their factory conditions and treatment of workers. Additionally, every company using the MSU brand must disclose their manufacturers and carry the proper liability insurance.
In strategically managing its base of apparel licenses, MSU stuck with companies where there was an existing relationship. However, the university continues to investigate new potential partnerships and licensing agreements. The Sports Licensing and Tailgate Show, set for Jan. 23-25 in Las Vegas, is one of the best opportunities each year to find new licensees and connect with existing ones. "With hundreds of licensees across the country, it's impossible to meet with everybody all the time," Stevens says. "But with many top licensees in one location, it's easier to meet face-to-face and talk through plans for the MSU brand."
Strong Partnerships
The university collaborates with every licensee on MSU-branded products, but it shares a special partnership with Nike. The relationship began with five of the school's athletic teams in 2001 and has grown substantially since. In 2014, Michigan State Athletics signed a 10-year, $34-million deal, which included making Nike its exclusive licensee for performance apparel and replica jerseys. "It was really important to our athletics department that we showed our loyalty to Nike, and it's really worked out well for all of us," Stevens says.
The agreement has led to a bigger push within Nike for other MSU licensed gear, such as new college-branded footwear at the launch of every sports season. "Nike has always been a very strong partner with the university," Stevens says. "Now that we have an exclusive agreement with Nike, we see more product development for retail as well."
Understanding how to maximize its licensing potential takes a great deal more data and resources than what's available to a small two-person department within a university. In 2015, MSU began working with IMG College Licensing, a licensing agency that represents nearly 200 colleges, bowl games, athletic conferences and the NCAA.
One key benefit of the IMG College Licensing partnership is that it provides MSU a more comprehensive understanding of where products are being sold, who buys those products, and how to reach those customers. IMG, formerly named the Collegiate Licensing Co., utilizes its internal systems to track the sale of collegiate licensed products across a number of key variables such as product category, retailer and channel of distribution.
IMG also provides consumer data and buyer preference data through the company's Global Insights team, which access industry resources like Nielsen, as well as market-specific information that is shared with its partner institutions. "We're able to utilize their research team for consumer surveys and insights," Stevens says of IMG.
That information helps colleges understand licensing trends and develop targeted marketing strategies. Earlier this year, MSU teamed with IMG to study the purchasing habits of Michigan State fans in the Chicago market. The study found that 87 percent of sports apparel purchases are driven by social media and that 75 percent of consumers make decisions based on what they see on Facebook. "Social media helps us connect with Michigan State fans in a way they can relate to in order to help influence their purchase," Stevens concludes.
The data has changed the strategy for promoting MSU-branded products. The university is now working with licensees to use lifestyle photography to advertise Spartan accessories and clothing on social media, helping customers envision how their favorite university fits into their everyday life.
"Ultimately, we keep our consumers at the center of licensing and marketing strategies, since it's their passion for MSU that drives their purchase of that next piece of licensed merchandise," Stevens says. "With each sale benefitting a greater purpose on campus, we want to continue to find better ways to license and market the MSU brand to provide those vital resources to the university."