Micro Industries Introduces Digital Directory Display at GlobalShop 2013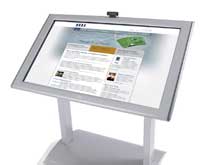 April 16, 2013 — Micro Industries unveiled its Touch&Go Digital Lollipop multi-touch directory and exhibit its expanded line of Touch&Go Digital Lollipop all-in-one touchscreen computer systems at GlobalShop 2013, April 16–18, at McCormick Place in Chicago. The 46-inch, high-resolution and ultra-bright multi-touch Digital Lollipop Directory is perfect for interactive product information, lobby directories, mall and hotel maps, department store directories and much more. Designed with three adjustable screen-angle settings, this touchscreen unit can support up to 40 touch points simultaneously.
The Digital Lollipop Directory meets the high-performance standards of Micro Industries' Touch&Go Messenger® line. The touchscreen table display supports nearly all PC-based software applications. Built with the classic design and inherent stability of the Lollipop line, it offers:
• All-in-one computer
• Multi-touch touchscreen – 2, 10, 32 or 40 points
• WiFi enabled
• High resolution, ultra-bright LED screen
• Available with sealed surface to prevent damage from liquids
• Adjustable tilt to 15, 30 and 45 degrees
• Totally mobile, available with caster wheels or slides
• Optional decorative back and bottom panels
• Optional speakers, cameras and motion detector
• Optional custom branding panels
The Digital Lollipop Directory also offers design and construction features that make it ideal for high-traffic, high-volume retail settings:
• Compact, elegant, sturdy design
• Durable construction for heavy use
• 46- and 65-inch models
• Available in white, black and silver
Unlike many recently introduced digital-directory tables, Micro Industries' Digital Lollipop Directory contains all required computers and hardware. Everything is embedded within the all-in-one computer itself, for a sleek, minimal installation that meets federal testing requirements. There's no need to hide ugly external computers that drive monitor-based solutions.
Launched in 2004, Micro Industries' popular Touch&Go Lollipop line is used by casinos, high-end retailers, and supermarkets. Other significant product improvements to be announced at GlobalShop will include:
• Transition to LED backlight displays, significantly reducing power consumption
• Digital Lollipop 32-inch screen with full-HD, 1080 x 1920 (providing consistent resolution for all Micro large-format computers, both portrait and landscape)
• Slimmer large-format design for the Touch&Go Messenger line, with depths reduced by 2.5 inches