Mike's Hard Lemonade Co. Unveils Beverage Innovations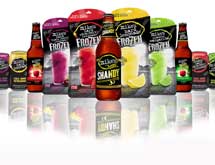 April 17, 2013 – Mike's Hard Lemonade Co. is rolling out what it calls the year's most refreshing beverage innovations with entries into new categories, beer and cider, and providing new ways for consumers to enjoy their favorite Mike's Hard Lemonade flavors. Innovations from the brand include Mike's Authentic Shandy hard lemonade and lager, Mike's Hard Smashed Apple Cider, Mike's Hard Lemonade Frozen and Mike's Hard Blood Orange.
"Mike's is synonymous with innovation and an unrelenting drive to create best in class products. We are constantly looking for new ways to delight consumers' and satisfy their ever evolving tastes across many different drinking occasions," said Kevin Kotecki, President, Mike's Hard Lemonade Co. "This year, we are proud to introduce our very first beer, mike's authentic shandy. I believe it is simply the most refreshing beer ever brewed. In addition, we are entering the cider segment with mike's Smashed Apple Cider, so delicious that consumers prefer it three to one versus the leading cider. Lastly, the number one brand in the flavored malt beverage segment, mike's hard lemonade, will now be available in frozen pouches featuring mike's superior flavors, smooth texture and non-sticky pouches."
Making a sdebut in the world of beer, Mike's Authentic Shandy starts with real Mike's Hard Lemonade then adds golden lager to make the shandy. Another new category entry for the company is Mike's Hard Smashed Apple Cider, a natural cider traditionally fermented with crisp Washington apples. Smashed Apple Cider is available in two varieties: Crisp Apple and Classic Dry.
The brand also added to its flavors with the new Mike's Hard Lemonade Frozen. All four frozen flavors – lemonade, black cherry lemonade, classic margarita and hard strawberry lemonade – are available now and sold in single 10oz. pouches. As for Mike's newest spring seasonal beverage, Mike's Hard Blood Orange, it is designed to tap into growing consumer demand for hot, cutting edge flavors.