Mind Candy's World of Warriors Now Live on the App Store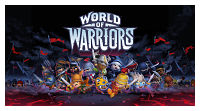 Mind Candy, the global entertainment company behind the Moshi Monsters franchise, today launched World of Warriors, an epic adventure and combat strategy game, exclusively on the App Store for iPhone, iPad and iPod touch. In World of Warriors players must amass an army of history's greatest warriors to defeat a power-hungry warlord and his evil Skull Army.
An all-new genre and IP for Mind Candy, World of Warriors blends fighting and RPG gameplay in a pick-up-and-play experience built to appeal to console gamers. Featuring an ever-expanding array of the greatest warriors in history, from Ninjas and Aztecs to Knights and Vikings, World of Warriors takes players on an epic journey across the vast Wildlands.
Every warrior comes with their own incredible backstory, special moves and historical facts. Through heart-pounding battle, elemental-based strategy, a rich crafting system and a chance to compete with players across the globe, World of Warriors delivers an unforgettable battle experience in truly stunning environments.
"With World of Warriors, we've taken care to build a console-quality combat strategy adventure that will appeal to a wide range of gamers," said Michael Acton Smith, Founder of Mind Candy. "Fans will quickly see how dedicated we are to making World of Warriors our next hit franchise, with regular updates to the game, emphasis on building our global community and several brand extensions that will make the most of the game's rich story and characters."