Misfit Shine Wins CES Top 2 Gadget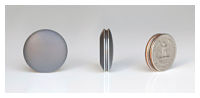 Jan. 11, 2013 – Misfit Shine placed second at the Consumer Electronics Show's Last Gadget Standing. The healthcare product was an early breakaway favorite on the online vote of the competition. Despite an impassioned social media push and having the most number of page views, Misfit lost its #1 spot to Lenovo at the last minute. Shine also placed second in a live audience vote at the event based on applause level.
Misfit is focused on developing the most wearable products in the consumer wellness and fitness device space. It is designing a line of products to inspire users to be more active. Misfit was founded in 2011 by Sonny Vu with John Sculley, the former CEO of Apple and Pepsi, and Sridhar Iyengar, co-founder and CTO of AgaMatrix, and have Founders Fund and Khosla Ventures as lead investors. Other investors include Norwest, OATV, Max Levchin, and incTANK.
Shine is an elegant personal activity tracker that comes with a line of accessories so users can wear it anywhere (shoes, pants, bra, wrist, neck, hair, etc.) and to any occasion (black tie, business, casual, swimwear). The user simply taps the device and a halo of lights appears to give feedback on their progress toward their daily activity goal. Timeless in design, Shine is diamond-cut out of a solid block of aircraft-grade aluminum and built to last a lifetime. It works with the Shine app, which allows users to set their fitness goals. To sync Shine, the user simply places it on their phone screen and data is downloaded in seconds.
Shipping spring 2013, Shine has already caused a storm on Indiegogo where it has raised close to $700,000 from nearly 7,000 funders from 64 countries. CEO Sonny Vu said: "We're so encouraged that people like Shine. I think the craftsmanship and attention to detail given to Shine has resulted in an incredibly elegant product that is broadly appealing."