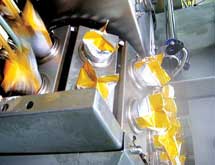 When its business platform crumbled, this novelty ice cream manufacturer developed an even stronger one by building on the strengths of its past. Since its founding in 1992 as the manufacturer of its own branded product, Mister Cookie Face has undergone tremendous transformations. In the late 1990s, when its branded ice cream sandwich no longer brought the level of success it needed to survive, the company moved into the private label/co-pack business and developed an association with Silhouette, creators of the Skinny Cow brand, a weight management novelty ice cream.
The company saw significant success during its years as the manufacturer of Skinny Cow, which was the number one selling novelty ice cream in the country. But in 2004, Dreyer's Grand Ice Cream bought Skinny Cow, taking with it the production rights and the majority of Mister Cookie Face's business.
"At that point, the company had to reinvent itself again," said Tony Papalia, president and COO. After taking a step back to see where the novelty ice cream business was heading, Mister Cookie Face became an organic plant, developed relationships with brands such as Entenmanns and Yoo-hoo, and continued to build on its co-pack and private label businesses.
More exacting, more demanding
Although the transition to its current business profile presented challenges, Papalia said the evolution has only made Mister Cookie Face a stronger partner to the companies it works with. From its start with its own branded ice cream sandwich to the products it produces today, the company has maintained its focus on high-end novelty extruded products.
"The higher-end ice cream product is our niche," Papalia said. "If companies are looking for products where the quality of the product is as important as the quantity produced, we are the answer."
From a private label perspective, Mister Cookie Face brings a substantial amount of R&D experience to its customers due to its background in brand development and the flavor formulations it concocted for Skinny Cow. At a time when consumers and companies are looking for a higher level of sophistication from their private label goods, these qualities make Mister Cookie Face an attractive business partner.
"The private label world is becoming more exacting, more demanding," said Papalia. "Consumers and companies want higher quality products, and we can meet their needs."
Since 2006, Mister Cookie Face's private label business has grown at a rapid pace, much of which Papalia said came from the company's initial investment into turning its plant organic. When Skinny Cow moved out of the plant, organic products were becoming increasingly more popular.
"We weren't sure the organic growth would be in the branded or private label business, but we were prepared in either case," he said. Mister Cookie Face made its presence known in the market, attending shows such as Expo East and Expo West and PLMA, and moved to being a stronger organic private label manufacturer.
"We felt that as a smaller manufacturer it was a niche we could fill," Papalia said. "For larger manufacturers to turn their plants organic would be difficult. We were looking for a place we could fit and play in, and the numbers indicated it was the right direction to go."
Success through partnership
Mister Cookie Face manufactures in the same facility it's had since the late '90s, a 40,000-square-foot building located in an industrial park. Despite the investments into new equipment, the move into organics, and the development of a number of brands, the company has still not filled the plant, partly due to the economic impact of the recession.
Between 2007 and 2008, as it was building up its new customer base and incorporating new capabilities into its business structure, the company doubled its business. This year, the company has maintained its business levels, but the financial crunch is putting the pressure on retailers to change their ordering patterns.
"A company that ordered from us once every four weeks now orders once every six weeks," said Papalia. "We've seen a slowdown of individual product lines, so we're producing different products for more customers in smaller quantities to maintain our position."
The company's ability to make these changes to its processes wouldn't be possible without strong vendor relationships. With smaller and more diverse orders and faster expected turnarounds, vendors such as United Dairy; packaging companies A&J Trading, HSM Graphics, and Graphic Packaging; and label company SureWay Graphics brought the kind of flexibility Mister Cookie Face needed to make it through its evolution, handle the impact of the recession, and see the light at the end of the tunnel.
"As you go through periods of growth, resources get stretched. These companies were willing to work with us to make the product and get it to our customers to help our company get back on its feet," Papalia said.
"They were always there with the best price and the highest quality product, and they understood that as we were rebuilding our business, we didn't want to lose any opportunities," he continued. "We've had good fortune with customers, high quality stable people we do business with, but our vendors were also key in making it possible for Mister Cookie Face to survive."