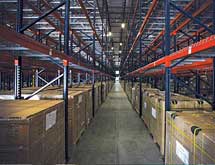 Untangling the confusion around computer and network cables and wires is now a little easier and cheaper. It can be a frustrating when you think you've gotten the best deal on a new HDTV, computer, or stereo, only to find that you're going to have to dig deep into your wallet to buy a myriad of network cables and wires. That's where Monoprice, Inc. comes in, providing a large selection of high quality computer, audio/video, and networking cables at reasonable prices on its Web site.
"About 80% of our products are our own brand," said Sean Lee, the company's founder and general manager. "We're trying to offer the same quality as the big name brands but at lower prices."
On its Web site, the Rancho Cucamonga, Calif.-based company sells everything from networking cables to ink and toner, in-wall speakers, projector screens, and wall-mount brackets. The company keeps costs low on all its products by eliminating high costs for packaging and middlemen, Lee said.
"We can purchase in large volume," he said. "The customers are paying just for the quality of the cables and accessories."
Although there are many online companies selling similar products, Lee said his company has seen tremendous growth by using a philosophy of keeping costs low and providing excellent customer service. "We try to be more like a service company rather than just a company that sells products online," he said.
Lee's philosophy seems to be working. Even with a slow economy, he estimates that Monoprice's revenues will be up 50% over the past year from $40 million to $60 million.
It's been a big jump for Lee, who started the company in his one-bedroom apartment in 2002 with $6,000. "I was a computer programmer building applications and software for other businesses when I decided that I wanted to start my own business," he said. "I realized that the easiest way to go into business for myself was by selling products online."
Rapid growth
Since 2002, Monoprice has grown from that one-person business to one that has 60 full-time and 30 temporary employees. Lee also has a little more space to run his business. The company recently moved from a hodgepodge of offices and warehouses in a business park to a 173,000-square-foot centralized office and warehouse.
"We're making things more efficient with the new warehouse," Lee said. "At the other facility, we had eight warehouses, and it was inconvenient for us to move products from one building to another."
A new automatic order fulfillment system should also increase the company's efficiency as it continues to grow. One of the challenges the company faces is making sure it doesn't over order products, but Lee said it's also important to have the parts customers want ready to be shipped as soon as possible. The new system should help the company get a better handle on its inventory, he said.
Until now, Monoprice has not aggressively advertised or marketed its products because Lee said it's had more than enough business to keep everyone hopping. "Once we set up the automatic order fulfillment system, we'll be able to handle more orders at the same time," Lee said. "Then we'll probably start doing some more marketing. It looks like there are a lot of people out there who don't know who we are but would be interested in our products."
Although Monoprice serves as a wholesaler for a number of large customers, Lee said he knows the value of providing service for even the smallest order, as shown by the company's relationship with more than 100 schools in California.
"We get a lot of purchase orders from schools and governments, but we started very small," said Lee. "When we first dealt with a school, it was for a $3 purchase order. At the time, I thought that even though this is only a $3 purchase order, you never know how big it could get."
Lee's dedication to customers extends to his relationships with vendors, many of which are based in Asia. "We support each other," he said. "We give our loyalty to their companies, and they give their loyalty to us, so we grow together."
Lee is also loyal to his employees. "When hiring management personnel, and even executives, we usually promote from within," said Lee. "We've found that doing it this way works really well."
Although Monoprice doesn't have the formal training programs of some larger companies, Lee said his employees are given the tools they need to grow, whether it is in sales, customer service, or distribution. "We're supporting our employees so they can succeed in their specialties," he said. "We want to make sure they can learn from the pros."
By focusing on good customer service, relationships with vendors, increased efficiency, and well-trained employees, Lee said the company will continue to grow. Plans are in the works to open a distribution center on the East Coast, possibly in Tennessee or Kentucky, early next year.
Passing the test
When it comes to offering quality products at a reasonable price, customers don't just have to take Lee's word on it. Several technology Web sites have put the products to the test.
"The results have been great," said Lee. Both audioholics.com and gizmodo.com have tested Monoprice's HDMI connector cables for HDTVs against pricier competition and been impressed with the results. Other Web sites have given glowing reviews to the company's iPhone battery charger, praising it for its low price and quick-charging capability.
By selling its own brand of products at reasonable prices, Lee said his company is not necessarily trying to compete with online retailers, but with the major brands of cable and accessory providers. "We have the same quality as those products but at lower prices," he said. "Customers keep coming back to us because we provide a great value for the products they're looking for."