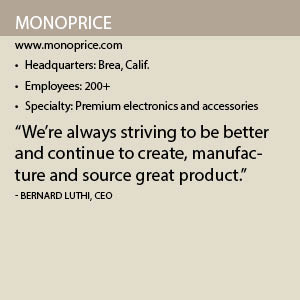 Bernard Luthi, who now serves as CEO, joined the Brea, Calif.-based company in 2014 during this significant shift in the e-commerce landscape. Due to the changing environment and competition Monoprice was facing, he initiated a "companywide transformation" to not only capitalize on the company's success, but also to spur further growth and cement its place in the market.
"During this time, Blucora was also going through their own transformation, which centered around their tax-focused businesses," Luthi explains. "Monoprice was divested. At the end of 2016, we were sold to YFC – BonEagle Electronic Co, one of our cable suppliers at the time."
Under the leadership of YFC – BonEagle, Monoprice has been and will continue to be even more successful, Luthi predicts. "They will play a huge role," he says. "We're owned by a company that not only has been manufacturing product for a long time, but is in the cable industry and has an exceptional reputation and terrific relationships."
He adds that YFC provides Monoprice with a "tremendous advantage" because of those factors. "I think it lends much credibility to what we do," Luthi says. "We certainly appreciate our former company ownership, but we believe that we have ended up in the right spot."
Valuing Customers
Offering more than 7,000 high-quality, affordable electronics and accessories under the Monoprice brand and more than 15,000 products across the site, the e-retailer is celebrating its 15th anniversary this year. It is marking the milestone by sharing its history with its customers.
Monoprice's customers have always been loyal, and in return, the company has always been committed to them, according to Luthi.
"We believe that once we acquire a customer we will retain them because they understand that our products are as good, if not better than what our competitors sell, all at a price that makes sense," Luthi says.
He adds that once customers come to understand the quality of Monoprice's products, they also grasp the company's unparalleled speed and service.
"We sell on almost every marketplace, we're easy to do business with and we have a standard of quality that consumers can rely on," Luthi says, noting the company prides itself on its devotion to its customers, shown by not only its product offerings, but policies such as lifetime tech support, great warranties, and a 30-day money back guarantee.
Monoprice's customers not only include retail consumers, but also about 30 percent of its business is targeted to the B2B segment. "There are many large household names that buy from Monoprice," Luthi says. "We have a strong vertical focus and have education, installation, and distributors who buy from us. In many ways, we really have an omni-channel presence."
Monoprice has retailers "knocking on its door" to have product placed on their shelves, according to Luthi. "It's interesting because it's the opposite of where the business has come from," he says, noting that the company had "resisted" until recently.
"As Monoprice continues, I think you'll find our products in more diversified places," he says. "We certainly want people to come to our website, but we're really trying to get our products in the hands of consumers at a price-quality ratio that is better than our competitors."
Additionally, Luthi notes that Monoprice's evolution from a cable business to a multi-category business further sets the company apart from its competition. From product lines that begin with its core offerings – including cable, adapters, wall mounts and installation AV-oriented products – Monoprice has expanded into home appliances, professional lighting and stage equipment, outdoor products, home automation, and fitness and exercise equipment.
He adds that the company's mantra is that we are going to "Monoprice" the category. "That means we're going to find a margin-rich product environment where we can enter the market, manufacture and source high-quality product directly, bring it to the U.S. and then sell it 30 to 70 percent less than what the leading brands sell it for," he explains, adding that Monoprice is a consumer advocate.
"We want to ensure customers get a great product but don't have to pay an insane price for it," he says. "We can source products that are as good, if not better than what our competitors are selling, all at a price that makes sense. We want our customers to get a great deal every time.
"We like to say we're breaking the price-quality barrier," Luthi continues. "We ensure customers are getting really great products at affordable prices, and we stand behind that. That is why we also offer a lifetime warranty on our cables and television mounts, and a full warranty on the rest of our products."
Seeing Growth
Monoprice has a 170,000-square-foot logistics warehouse in southern California. Two years ago it launched a second logistics center of 103,000 square feet in Hebron, Ky. It just moved its headquarters from Rancho Cucamonga to Brea, Calif. "We also have plans to double or triple the size of our East Coast facility and are looking to invest in logistics space in Europe in the very near future," Luthi says.
He notes that Monoprice has a strong group of customers on the East Coast, so the company wants to ensure it is able to get product to them efficiently and cost effectively. "We're always striving to be better and continue to source, create and manufacture great products in a timely and efficient manner," Luthi says.
In the coming years, Monoprice will not only be working to provide its customers with added value but also to expand its brand. The company has started working on achieving its goals this year by taking advantage of marketing opportunities.
"We have a strong marketing team that focuses on search, affiliate programs and email opportunities," Luthi says.
Next year, Monoprice will expand its use of traditional marketing, such as print and broadcasting. "We're going to start a very strong push in public relations," Luthi notes. "We started doing that the last couple of years and it's provided us with some great returns, but we're going to start getting aggressive."
Additionally, to meet the growing global demand for high-quality and affordably priced electronics, Monoprice has expanded its product offering overseas. Although European shoppers already have access to its products through Monoprice's U.S. website, the company is launching localized sites for Germany, Italy, Spain and Switzerland. Monoprice's UK site was the first to launch this past September. The rest are planned to launch by the end of the year.
This comes at a time when the company currently ranks as the No. 1 seller of 3D printers in the world. According to Luthi, the addition of localized sites will help to sustain this title. "With Monoprice's expansion into key markets abroad, we are thrilled to bring our brand guarantee of simplicity, fair pricing and confidence to consumers and businesses throughout Europe," Luthi says.
Monoprice will offer a seamless online shopping experience, with product managers curating a variety of high-quality solutions across multiple product categories, he adds. Initial products will include 3D printers, headphones, small appliances, wall mounts, and a variety of A/V and IT products targeted for retail consumers and B2B including installers, education and Fortune 500 companies.
"This expansion is a part of a multi-angle approach, which includes in-country logistics and relationships with large marketplace partners, such as Amazon," Luthi explains. He notes that this approach not only signifies a strong commitment to European consumers, but also ensures orders have inexpensive shipping and faster delivery directly to customers' doors, with no holdups at customs and no surprise fees.
"Next year we'll concentrate on strengthening our presence in South America and continuing to bolster our presence in Europe, Asia and Australia," Luthi says. "While Canada and the U.S. will still remain a focus, international growth is a top priority."
This circles back to customer acquisition, Luthi adds. "We want to bring the Monoprice story and value proposition to the rest of the world."
Building on Success
Monoprice was recently named the No. 1 selling 3D printer brand in the world. The company aims to capitalize on the recognition to gain a bigger share of customers. "As 3D printing continues to evolve, it can be huge for us," Luthi says. "At the price point we're selling printers for, everyone can own a 3D printer and begin to familiarize themselves with the technology."
He adds that as 3D technology is adopted, customers will see that it's both educational and fun, and Monoprice will be able to capitalize on the growing consumer segment.
"We can utilize that growth and our brand recognition to acquire customers who will begin to understand who Monoprice is outside of just 3D printing," he says, adding that customers can then be introduced to its wide array of other products.
"The next time they're looking to upgrade their TV cables, buy a guitar or buy outdoor equipment, they will know that they can find what they are looking for with us," he says. "They'll start to know us as the go-to for affordable, high-quality products across categories."
With the support of owner YFC – BonEagle, Monoprice feels like it cannot be stopped in terms of growth and success, Luthi notes. "We can play in every major category," he says. "This is really an acquisition play for us that we've already seen start to take place."
Monoprice's suppliers also play a critical role in its success. "We maintain a very strong network of suppliers throughout the world with a focus on the Asian market," Luthi says. "We spend a lot of time in our offices domestically and our offices overseas. With our new ownership, we are in constant and consistent contact with everyone we work with."
Monoprice has more than 200 employees, with purchasing and product and development teams in the United States and Asia. "We maintain a very strong, unique, and in many cases exclusive relationships with our suppliers," Luthi says.
He adds these longstanding relationships have been a key strength and differentiator for Monoprice.
"They have enabled us to drive down the price of the product that comes to the U.S. because of our excellent sourcing," Luthi explains. "Anyone can attempt to source strong product, but if you don't understand the market you'll end up with inferior product and pay too much for it. Our level of expertise in sourcing comes from not only the U.S. part of our organization, but also the fact that we're owned by a manufacturer."
Luthi notes that YFC – BonEagle, Monoprice's parent company, has a long history of product manufacturing in Taiwan and China, which provides it with unparalleled insight that its competitors do not have.
"We have strong end-to-end supply chain solutions and great manufacturing relationships because we are one with the manufacturer through our ownership," Luthi says. "We are able to bring products into the U.S. and ensure it is high quality and affordable. Additionally, we then have capabilities through our own logistics engine to get the products in the hands of customers very quickly."
Making It Happen
Although Monoprice is seeing significant success under Luthi's leadership, he believes the company was already great when he joined in 2014, adding that he's most proud that Monoprice was able to successfully navigate its transition considering obstacles in the competitive landscape.
"The environment for commodity-based consumer electronics was undergoing a dramatic change in 2013," Luthi says. "We were able to take a really good opportunity and turn it into a business that is growing in the double digits."
Luthi claims one key pillar of the company's success is having the talent with the right skills, and creating strong executive management and support teams. "If you look at the business today, the level of capabilities and focus within the employee base has really improved," he says. "We have a great group of employees. I think that's really the strength of our company.
"Our people work together, work hard and all have a vested interest in seeing the success of this business," Luthi continues. "Ultimately, our core is solid. We just needed to further build around it."
He notes Monoprice is seeing the results of its efforts now in 2017, one of the strongest years for the company, yet.
"We have the right owner that not only supports the business, but also understands what we are doing because it is in the industry," Luthi concludes. "We are definitely a company on the rise. For us, it's about technology at prices that make sense and finding ways that we can tackle new categories to give our customers what they need, affordably, and without sacrificing quality. We have the business headed in the right direction; the goal now is global domination."