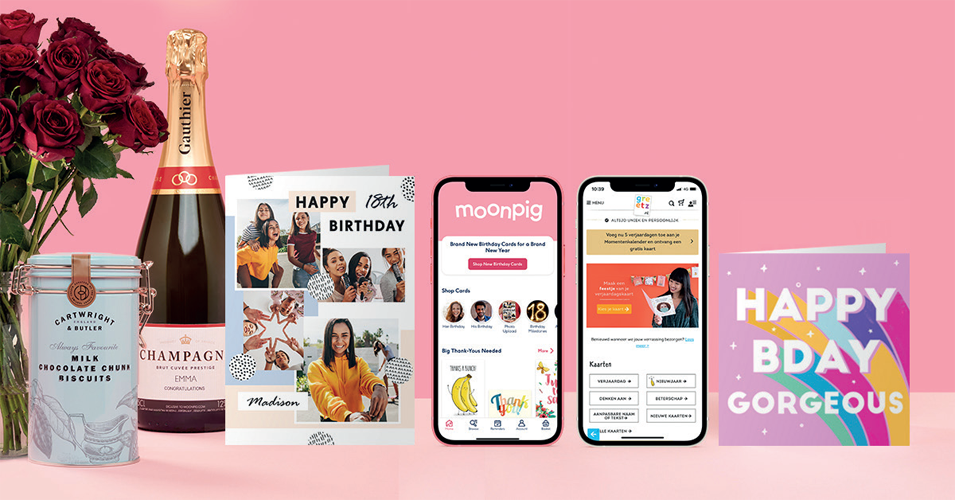 Celebrating every occasion
With intuitive technology and an eye for detail, Moonpig Group continues to strengthen its personalized service and innovate as leaders in the gifting industry
Some of us know Moonpig's familiar jingle all too well. Since the early days of its 2D space pig animation, the business has evolved to become the leading online greetings card and gifting platform comprising of the UK's Moonpig brand and Greetz in the Netherlands. We speak with Operations Director John Persaud, who shares with us the workings behind a Moonpig order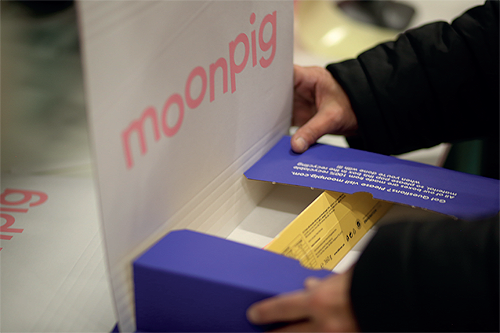 and how it has expanded to be the name depended upon to celebrate moments that matter.
"We still hear plenty of that song, but 20 years later, we've grown drastically from that little pig in a helmet. We have thousands of designs, attached gifts and flowers, and we have continually developed our technology to make the ordering process as easy as possible for our customers," John says.
Operating in emotional commerce, the company has an offering of hampers, alcoholic beverages and a range of flower arrangements tailored for each life milestone. Accordingly, the business takes pride in making the ordering process just as exciting as receiving a Moonpig gift. "Everything we do is driven by data and technology. Not only do we record what people are buying, but also why they're buying it so that we can personalize their experience and help make it easy for customers to choose the perfect combination of gifts and cards," he shares with us. This element is what has led the business to owning over 60 percent market share of the greeting cards segment in the UK and Netherlands, with 86 percent and 78 percent brand recognition in each market respectively.
"To work as efficiently as we do, we have a mix of factories based in Guernsey and Amsterdam, and we use partners spread across the UK and the Netherlands, as well as our international branches in Australia and the US. This network is what allows us to deliver around 46 million cards each year." he shares. In order to achieve its next-day delivery targets, the business relies on an ecosystem of florists, designers, and internal production teams.
"Internally, we use highly automated factories to fulfil the majority of our customer orders. Our specialist florists serve the fresh flower supply chain quite differently from the card and gift supply chain, so we need a third party to manage that. It means we can offer different services but do so without specializing. During our peak periods, we use additional partners to top up our capacity for peak periods like Christmas or Valentine's Day to make sure we continue to give the right service," John adds.
Regarding its intelligent operations network, Moonpig functions on a three-tier tech enabled network that is built to offer scale, print on demand, flexibility and convenience. With automated internal factories and third-party partnerships, the business is able to withstand peak capacity and international reach with efficiency and accuracy. "Because we have quite a complex layout of different sites producing different products, our systems ensure that we batch similar orders together and route them to the right location. Once the orders come out of the digital world and into the physical one, we incorporate state-of-the art digital printing and the latest smart automation ready for packaging cards into envelopes and gifts into boxes," he says. This level of technology is what has enabled the business to work closer and quicker with its clients than ever before.
There is a fair share of creativity that goes into product innovation and development at Moonpig. For example, to make it easier to choose the right gift, the business launched its new design studio to assist with card editing and product suggestions. "We've got over 140 developers and data scientists across the business and they bring different innovations to improve every step of the selection journey. One of our recent features is our reminder service. This prompts people with dates for birthdays and anniversaries, or if you're supposed to be sending somebody a gift, which has been a bit of a lifesaver for me," says John with a chuckle.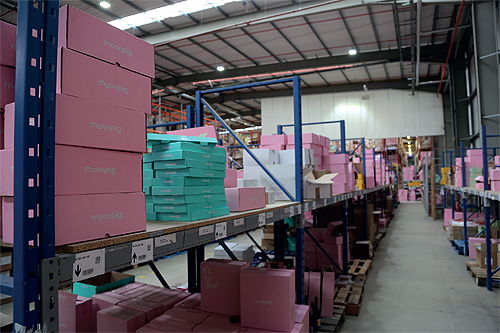 Although technology has a significant presence within the business's operation, the team of dedicated staff is what keeps the wheels turning. "We're a very purpose-driven business. Our aim is to create more personal connections between our customers and their friends and family. This is why we work closely with our staff and why we care about their contributions to the business. A key part of our philosophy is that we make sure that our own people are respected, included and supported, meaning that we invest hugely in our employee experience. Of course, with the pandemic, it has been more difficult to see each other so we've had to work on ensuring that social and business connections have remained strong, and I think that translates into a team that really do know each other and like working together," John expresses.
In the same breath, the consequences of the pandemic have also provided an opportunity for the business to bring clients closer during a period when celebrations have been put on hold. "Over the last 12 months, when people have not been able to get to the high streets to buy cards, our ability to expand our production capacity by integrating new providers has meant that we've been able to continue to provide cards for customers. This has meant that they have been able to connect with their friends and family at a time when they may not have been able to do so in any other way," he informs us. Not only did this improve business for the gifting company, but the increase in sales placed it within the 2020 Sunday Times Top Track 250. "We've been on a strong growth trajectory for many years. While we've been investing in our tech and AI in the last 18 months, we've more than doubled the number of active customers, and nearly tripled revenue at the same time. We're obviously operating at a significant scale, and we are expected to grow with a focus on building our customer loyalty," he adds.
According to John, the past 18 months have encouraged the business to be more supportive of bringing loved ones closer, which led it to focus on yet another platform under the company name: the Moonpig mobile app. "We've been trying to make things as simple for customers as possible. Our app makes searching so much easier, it makes reminders much more accessible and it ultimately makes the ordering journey more fun. So, customers do naturally become more loyal after they use the app, which is why we have focused on providing the best service through that platform," John explains.
"We also recently launched a group card feature on the app. This tool enables lots of people to contribute messages onto a single card and was inspired by a time when we haven't been able to pass cards around the office to get signatures. It has been a great way to get lots of people to be able to contribute," he adds.
Looking further ahead, the business is motivated to stay ahead of industry developments and strengthen its working partnerships. "We'll continue to build on the successes that we've had so far. Operationally, we will continue to grow our capacity and manage our demand. Although we've expanded our capacity hugely across our networks in the last 12 months, we're working now to make that even more robust, and continue to innovate and support our customers even more through any means possible. For example, in our partnership with Royal Mail, we've grown our scale through them and that gives us the ability to work with them to launch a Sunday deliver service that we actually did for Father's Day, where you could deliver both gifts and cards on a Sunday for the first time in Royal Mail history. We'll continue to innovate in these ways and improve our service levels by building on the foundation and capacity that we've built over the last 21 years," John states.
Moonpig is on a mission to become the ultimate gifting companion and in doing so, is honing in on perfecting its process of buying and ordering. "We're doing that with excellence through our operations, which means we're using our internal factories to do things at scale.
We're using specialist team supporters to deliver those things which are adjacent to our core strengths, and we're making sure that our network and our technology is able to scale up and down so that we can keep offering great service levels every day of the year, whether demand is driven by peak periods, by global pandemics or through customer loyalty. No matter what, customers will always get the most meaningful and most convenient service for sending cards and gifts to friends and family because we are determined to provide a Moonpig card and gift for every moment," he concludes.