Morena Baccarin Sparkles in Award-winning Homeland and Award-winning Jewelry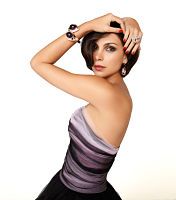 Jan. 22, 2013 – Whether she's playing the wife of an American war hero on Showtime's Homeland, or wearing some of America's finest gemstone jewelry, Morena Baccarin does it beautifully. The Brazilian-born actress, who stars as Jessica Brody on the award-winning drama, is also a celebrity muse for the winning jewelry designs of the 2013 AGTA Spectrum Awards. The competition, now in its 29th year and sponsored by the American Gem Trade Association (AGTA), is considered North America's premier colored gemstone jewelry design contest.
While modeling artisanal jewelry is new to Baccarin, her appreciation of beauty and art has been a significant force throughout her life. The daughter of a journalist father and an actress mother, Baccarin and her family moved to the states when she was young. Living in New York City, she attended such prestigious schools as the LaGuardia High School of Music & Art and Performing Arts and the Juilliard School—preparing her for many different roles in movies, TV, and theatre.
Baccarin's eyes were opened to a genre of creativity she hadn't known about through the Spectrum Awards. "Until now, I was unaware that there were so many designers doing this kind of jewelry. One thing I didn't expect to see was a lot of jewelry with so many different gems on a single piece. But everything in the Spectrum Collection was very intricate and rich and artistic—no ordinary pendants or rings with just a few diamonds accenting," she says.
"I think the average person is like me in that respect—we're unaware of what's really out there in fine jewelry. People should try to become aware of interesting pieces and, when they find something they love, they should buy it. When you approach shopping in that way, you can't go wrong—for both jewelry and fashion."