Moshi Monsters Happy Meal Promotion Launches In The U.S.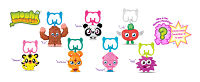 Dec. 12, 2012 – Starting December 14, the popular kids hit Moshi Monsters will invade McDonald's restaurants throughout North America for a Moshi Monsters Happy Meals promotion. The special program will give fans from coast-to-coast a chance to get their hands on exclusive Moshi Monsters toys for four weeks during the holiday season.
One of eight different colorful characters from the Moshi Monsters universe will be featured in every McDonald's Happy Meal, including an all-new, top-secret mystery Moshling to be unveiled as part of the month-long promotion. The collectible figures (exclusive to McDonald's) will include fan favorites Katsuma, Poppet and IGGY along with Furi, Jeepers, Shishi and Luvli, while supplies last. Each Happy Meal also comes with a free three-day membership to MoshiMonsters.com. The promotion will last from December 14 to January 10.
With more than 70 million registered users worldwide, Moshi Monsters is an online world of adoptable pet monsters for boys and girls ages 6-12. Created by Mind Candy – a global entertainment company based in the U.K. with offices in Los Angeles and New York – Moshi Monsters adoptable pet monsters are chosen by children who can pick from one of six virtual pet monsters that they can create, name and nurture.
Once their pet has been customized, young players can navigate their way around Monstro City, taking the daily puzzle challenge to earn 'Rox' (virtual currency), playing games, solving Super Moshi Missions, personalizing their room, showing off their artwork, reading stories and communicating with friends in a safe environment.
Following its online success, Moshi Monsters has expanded into the physical world with a range of products, including best-selling toys, the number one-selling kids magazine in the U.K., a top-five music album, books, membership cards, trading cards, video games and more.