Mother's Day Insights: PriceGrabber says Shoppers Plan to Celebrate on a Budget, Offers.com's Mother's Day Poll Reveals 43% of Moms Want Homemade Gifts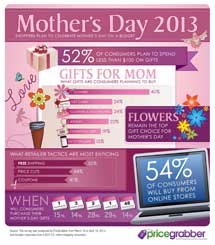 May 2, 2013 – Mother's Day is an important day on the calendar for families and retailers alike. Around this time of year, retailers and brands try to appeal to shoppers looking to celebrate all things mom, and there are plenty of studies out there into how to make the most of this year's Mother's Day. Today, Pricegrabber and Offers.com are among the latest to release some insights into consumer attitudes and the desires of moms everywhere.
PriceGrabber just released results of its 2013 Mother's Day Survey, revealing that 52 percent of consumers are planning to spend less than $100 on gifts this year. Twenty-three percent indicated they will spend $100 – $249, and 12 percent said they would splurge more than $250, while 13 percent do not have a budget in mind. Conducted from March 16 to April 18, 2013, the survey includes responses from 6,824 U.S. online shopping consumers.
Flowers remain top Mother's Day gift selection
When consumers were asked to select all of the types of gifts they plan to purchase for Mother's Day, 40 percent said flowers, 24 percent indicated gift cards, and another 24 percent selected clothing and accessories. Twenty-two percent plan to buy jewelry, and another 19 percent are opting for an experiential gift such as going to dinner, a vacation or a show. According to the survey, 15 percent plan to buy a tech-type gift for Mother's Day such as a computer, a tablet or a smartphone. When those planning to give a tech gift were asked to select the types of tech-related presents they expect to buy, 46 percent said a tablet, 27 percent selected a smartphone, 20 percent noted a computer, 13 percent chose a camera, and 11 percent said an e-reader.
"Whether shoppers are planning to honor their mom with a bouquet of flowers, a night out, jewelry, or clothing, consumers are looking for deals on gifts early and on a budget this year," commented Rojeh Avanesian, senior vice president of sales and marketing at PriceGrabber. "In the 2-3 weeks prior to Mother's Day, PriceGrabber saw a 30% traffic increase in flowers, gifts, and jewelry. As Mother's Day approaches, shoppers are also looking for deals on dresses, sandals, and handbags."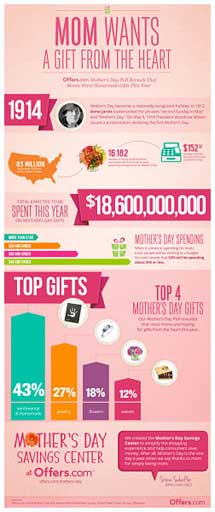 Most plan to purchase Mother's Day gifts online; free shipping entices shoppers
When consumers were asked how they plan to purchase their Mother's Day gifts this year, 54 percent said they will buy from online stores via their computers, while 38 percent plan to buy in brick-and-mortar stores. Eight percent of survey respondents plan to purchase gifts from an online store via their smartphone or tablet. When consumers were asked to select all of the retailer tactics that will entice them to buy a product or a service for Mother's Day, 55 percent said free shipping. The second most attractive retailer tactic was price cuts, with 44 percent of the vote, while 41 percent of consumers indicated coupons. Twenty-two percent of shoppers said they will not be influenced by retailer tactics.
Shoppers plan to buy gifts 1-2 weeks prior
The month of May will be a busy time for consumers purchasing Mother's Day gifts. According to the PriceGrabber survey, 29 percent of shoppers plan to purchase Mother's Day gifts one week prior, 28 percent said they will buy gifts two weeks prior, and 14 percent of respondents will leave gift-buying until the last minute, within 48 hours of the holiday. Fifteen percent of shoppers indicated that they will plan ahead, purchasing Mother's Day gifts one month prior, and 14 percent expect to buy gifts three weeks prior.
Meanwhile Offers.com released poll results of the top four Mother's Day gift ideas and how much shoppers plan to spend this Mother's Day. Results show affordability is a key factor in choosing gifts this year.
"Everyone should be able to give their mom a special gift on Mother's Day, whether it costs $1 or $100," said Steve Schaffer, Offers.com CEO. "We want to help consumers find gifts for their moms and find a great deal, so we created the Mother's Day Savings Center to simplify the shopping experience and help consumers save money when looking for something special. After all, Mother's Day is the one day a year when we say thanks to mom for simply being mom."
Top Four Mother's Day Gifts:
Most moms are hoping for Mother's Day gifts this year that are from the heart. Offers.com's Mother's Day poll data reveals the following:
Sentimental & Handmade – 43%
Jewelry – 27%
Flowers – 18%
Sweets – 12%
Spending on Mother's Day
When it comes to spending for mom, most people will be sticking to a budget. Offers.com poll data reveals the following:
$40 and under – 52 %
$60 and under – 22 %
$80 and under – 17 %
More than $100 – 9 %