NACDS's Total Store Expo Preview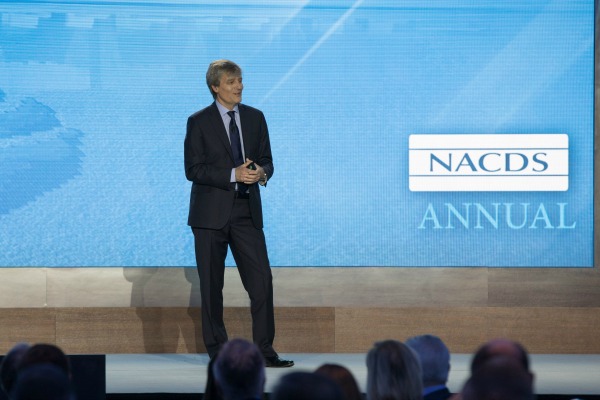 NACDS's upcoming Total Store Expo aims to provide an engaging platform where attendees can network with the right people. By Bianca Herron
More than 5,000 attendees will soon convene for The National Association of Chain Drug Stores' (NACDS) Total Store Expo. Held at the San Diego Convention Center in San Diego, the show will take place Aug. 19-22 and feature more than 700 exhibitors.
With each annual show, NACDS takes extensive steps to help attendees make connections with the right individuals, says Senior Vice President of Member Programs & Services James Whitman.
"This show is a culmination of different conferences and tradeshows that were held separately," he explains. "We brought them together in 2013 under the banner of Total Store Expo. Our goal was to bring everyone together in a venue where they could have the kinds of robust discussions that would prove beneficial not only to themselves, but to everyone who attended."
At the Total Store Expo, Whitman notes that an attendee can meet with someone in the supply chain, advertising, sales, and retail and manufacturing, amongst other segments of the industry. "This conference is designed to foster collaboration between chains and suppliers on diverse products throughout the store, as well as collaboration across company functions and personnel," he explains. "The event focuses on business meetings, experiencing products and services first-hand, educational programming and extensive networking.
"Highly strategic efforts are employed to equip companies with resources needed to prepare for the event and to maximize success," Whitman adds. "That's the advantage of the Total Store Expo."
Innovation On Purpose
Although held in a different city each year, Whitman notes that the innovation of the Total Store Expo extends well beyond its location. "Every year the industry changes in some way," he says. "For example, there are always new players on both the retail and manufacturing side. So every year brings new, unique companies and individuals to the show."
One of the most popular features of the show is Meet the Retailer, which allows retail companies to brief exhibiting suppliers on strategic priorities. "These retailers provide intelligence about how best to foster collaborative relationships," Whitman says. "We continue to refine this segment to make it more effective for all attendees."
Total Store Expo's Meet the Market program is another key highlight of the show. "At Meet the Market, suppliers and retailers meet for brief introductory meetings that set the stage for subsequent and more in-depth conversations," Whitman explains. "Also, the Vision 2028 section of the exhibit hall will focus on companies' offerings in the areas of alternative competition, e-commerce, promotion effectiveness and the role of assortment."
On Aug. 20, Total Store Expo will hold its Business Program where NACDS Chairman Alex Gourlay, co-chief operating officer of Walgreens Boots Alliance & president of Walgreens Co., will speak and General Colin Powell will keynote the event.
"Our philosophy with this program is that if you're going to be well-rounded in both your professional and personal life, you need to be informed and aware of what's happening in the world," Whitman notes. "This program is a good time to update attendees on things happening in the world that could impact them in some capacity. I think Colin is a good representative that can speak to what's timely right now."
Other topics that will be addressed at Total Store Expo include health information technology, pharmaceutical trends, the health and wellness consumer, supply chain collaboration and digital marketing.
No matter what an individual or company may be looking for; Total Store Expo will meet their needs, Whitman notes. "This show provides a good opportunity to recalibrate, confirm or re-confirm," he says. "It's also an opportunity to look for new ideas, plan ahead, be a mentor to someone else, meet with your peers, learn and explore.
"There's a tremendous amount of engagement within these four days of the expo," he adds. "This is also a tremendous industry with tremendous individuals who have tremendous opportunities to make a difference in people's lives. At NACDS, we approach everything we do with the needs of our members in mind. That is why the show is reflective of what's happening in the industry. It's our goal to provide what they need as much as we possibly can during Total Store Expo.
"Ultimately, this show is truly geared towards making our attendees better," Whitman concludes. "It also gives them an opportunity to expand and explore. If you're not coming to the show, you should. And if you are coming, take advantage of everything you possibly can."