NACDS Total Store Expo Preview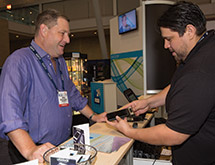 When the National Association of Chain Drug Stores' (NACDS) Total Store Expo hits the Colorado Convention Center in Denver from August 22-25, it will once again bring its signature blend of tradeshow and senior-level conference formats together. At this powerful appointment-based show, strategic and tactical collaboration across functions within retailer and supplier partners will be fostered, providing tools that can help attendees utilize the event as a game-changer for their companies.
This year, the NACDS Total Store Expo launched a major social media campaign to maximize the event's power to "Make Connections Happen." Introduced on NACDS-TV, NACDS' campaign has been utilizing Twitter, Facebook and LinkedIn to tell the story of what makes the NACDS Total Store Expo unique.
"This social media campaign is designed to leverage what's truly important about this remarkable event. By far, the most important ingredient to the NACDS Total Store Expo's success is the engagement of decision-makers across diverse functions within their companies and across diverse segments of the industry. Also of importance is the total commitment to help attendees prepare thoroughly for the event – from their exhibit space to their meeting agendas and more," says NACDS President and CEO Steven C. Anderson, IOM, CAE.
NACDS has also announced a partnership with four cutting-edge technology companies to present Vision 2026 at the 2015 NACDS Total Store Expo. The feature will offer attendees a glimpse of "what comes next" in the industry through technology platforms, displays and interactive experiences.
"As the retail and healthcare landscapes continue to evolve, we're at an important juncture in how technology can play an integral role in bringing them together for the benefit of the consumer," Anderson says. "The technologies presented by Anthony Int'l, IBM Watson, Impinj, Kantar Health, Kantar Retail, Menasha Packaging, Provision Interactive Technologies, Inc. and Red Dot Square will certainly showcase what the future of retail and healthcare may look like in the next decade at this year's NACDS Total Store Expo."
This year's Vision 2026 experience will again be located at the entrance to the exhibit floor of the NACDS Total Store Expo at the Colorado Convention Center. Through a variety of interactive exhibits, the feature will focus on four primary areas, dedicated to providing a provocative and engaging view of the future of retail-centric health.
In addition, the event will feature a vast line-up of educational Insight Sessions. These sessions will offer presentations by experts on a variety of key issues and priorities including healthcare, business and logistics. The sessions will take place on Sunday and Monday during the four-day trade show and strategic exchange. More than 20 Insight Sessions have been announced for the NACDS Total Store Expo.
"The NACDS Total Store Expo provides the most cutting-edge programming for retailers and suppliers – and this year's Insight Sessions are no exception," Anderson says. "Each session is developed with all attendees in mind, across all segments of the rapidly-changing industry. Whether its consumer goods, retail, pharmacy, supply chain or logistics, there is a session for every attendee that will provide forward-thinking knowledge for effective business planning."
Another exciting aspect of the event will be the presence of legendary television journalist and author Tom Brokaw, who will offer the keynote address during the 2015 NACDS Total Store Expo. Brokaw will speak during the trade show's Business Program on Sunday morning, August 23 at the Colorado Convention Center.
"Tom Brokaw's name is synonymous with the delivery of compelling national and world news," Anderson says. "His groundbreaking reports and specials helped bring the realities of global and national issues into the homes of Americans every evening. We look forward to hearing about his experiences in telling the news over the last several decades, as well as his more personal life lessons in battling cancer, as shared in his powerful new memoir."
In the lead up to the event, NACDS will conduct a webinar series that will provide the roadmap to success for retailers and suppliers. This educational series will help attendees plan and navigate their trade show experience in a number of areas, including logistics, technology, appointment planning, Meet the Market strategies and engaging with the media.
Each webinar is offered at no charge to all retailers and suppliers that are registered for the NACDS Total Store Expo. Following each webinar, videos will be available online for viewing on the NACDS-TV channel.
"Preparation is truly the key to a successful experience at the NACDS Total Store Expo – both for retailers and suppliers," Anderson says. "Innovative resources like the upcoming webinar series are designed to provide attendees effective and efficient preparation strategies ahead of time to help maximize business opportunities and the overall experience at the trade show."
For more on the 2015 NACDS Total Store Expo, visit tse.nacds.org.