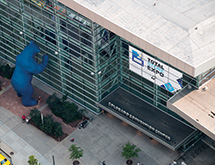 The National Association of Chain Drug Stores'(NACDS) Total Store Expo took place Aug. 22-25 at the Colorado Convention Center in Denver. The expo is the premier event for retailers and suppliers in the chain drug store industry to get together to form strategic and tactical collaborations. Attendees gained new insights into their business and how to more efficiently run their operations.
"NACDS is you," said NACDS President and CEO Steven C. Anderson during his address at the expo. "That engagement drives the success of everything NACDS does: advocacy, public policy, communications, media relations, pharmacy operations, patient advocacy, meetings and conferences, the NACDS Foundation and much more. Constant and transparent dialogue with the membership helps NACDS pick up the issues and topics that demand a response. This NACDS Total Store Expo is the place to be to solve today's business, policy and political equations – the ones we know and the ones we don't know yet."
From Meet the Market to Meet the Retailer, there were so many opportunities for attendees to network and gain valuable insight. Meet the Market allowed exhibitors to introduce the latest innovative products, technologies and services to the expo's retail audience. Thousands of presenters met with thousands of retailers through a series of vital 10-minute appointments arranged by NACDS. Meet the Retailer, on the other hand, let exhibitors learn about business development and sales opportunities across the total store, including seminars on how to get the most out of exhibiting, from leading retail and health executives such as HyVee, Rite Aid and CVS Health.
"Now is a critical time to be part of this group for us and for you as associate members and suppliers [and] manufacturers," said NACDS Chairman Randy Edeker during his speech at the expo. "This is a critical time for all of us to be here, to be a part of this great movement of NACDS."
The show also featured its exhibit Vision 2026, which gave attendees a sneak peek into the future of pharmacy and retail. Various companies and industry experts came together to share their thoughts on the future of digital technology, merchandising, store layout, new services and consumer purchasing decisions. Some of the companies featured included EZface, which brought a virtual makeup tester called TryItOn; inMarket demonstrated the future of wearable technology; Anthony International showcased its iDoor, an LCD glass display that will allow customers to see new content while still seeing merchandise in the refrigeration case; and Provision Interactive, which demonstrated its patented and award-winning 3-D holographic retail displays.
"The speed of change and the need to evolve has never been greater than it is right now," Edeker said. "And then you have changing shopper attitudes and expectations about how we deliver and what we deliver. NACDS has never been more important than it is right now. It's about the connections, it's about the relationship and it's about the collaboration. NACDS is the catalyst for that collaboration. It brings healthcare and retail and our suppliers together for business planning to discover new innovations and recognize opportunities and undiscovered possibilities."
The NACDS Total Store Expo even attracted some celebrities. Tom Brokaw, long-time television journalist and author, gave an address during the expo and the Goo Goo Dolls played a concert for the show's Denver Extravaganza.
Anderson encouraged attendees to get out and take advantage of the expo. "Get out there and look for the interruption that's worth stopping you in your tracks: an exhibitor with a new product or a business partner with a new idea. Get out there and meet the people who can help you. Get out there and learn something new about this amazingly dynamic and changing operating environment," he said. "Or take the risk and create the interruption that needs to be created. Pitch your idea. Make that difference. Shape your future. That is what the NACDS Total Store Expo is all about."
The next NACDS Total Store Expo is slated for Aug. 6-9 in Boston, Mass. For more information about NACDS Total Store Expo, visit tse.nacds.org.