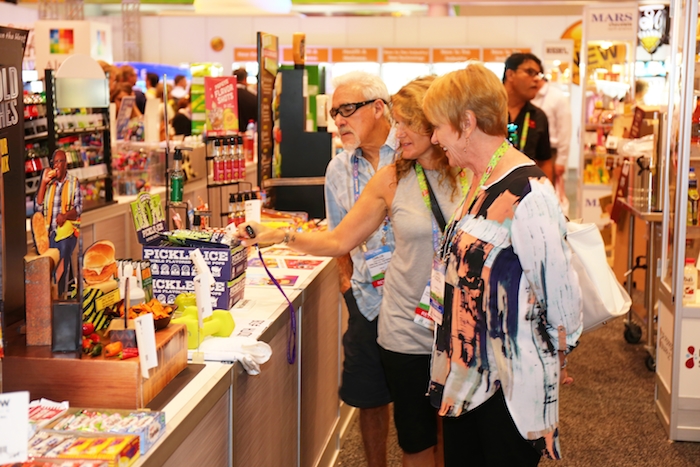 Every year, the NACS Show brings together convenience and fuels retailing industry professionals for four days of learning, buying and selling, networking and fun, all designed to help participants grow their bottom line. Join attendees this year in Atlanta from Oct. 18-21 at the Georgia World Congress Center – where all roads lead to profits.
With a 410,000-net-square-foot expo hall and more than 1,200+ exhibiting companies showcasing thousands of products, the NACS Show is the only event of the year for leading c-store operators to find ideas, discover new products and develop profitable business connections.
Each area of the expo gives attendees a one-of-a-kind, hands-on experience that can't be matched anywhere else. Explore the 1,200 exhibitors, including the New Exhibitor Area with nearly 200 first-time NACS Show exhibitors. Introduced last year at the NACS Show, the New Exhibitor Area was wildly popular. This year the area will streamline time spent exploring new exhibitors by organizing them into the five categories that mirror the full expo: Facility Development and Store Operations; Foodservice Equipment and Foodservice Programs; Merchandise, Candy and Snacks; Fuel Equipment and Services; and Technology.
To see what's new for the convenience store industry, attendees' first stop should be the Cool New Products Preview Room. Acting as a launch pad for the future, the Cool New Products Preview Room is just what its name implies. It's loaded with new innovations, products, services and other growth opportunities divided into seven categories: Green (eco-friendly), Health & Wellness, New Design, New Flavors, New to the Industry, New Services and New Technology. The Preview Room offers attendees the use of hand-held scanners to capture the products they're interested in, and the ability to print a list of what they scanned as they head off to visit each booth at the NACS Show Expo.
With Ideas 2 Go, retailers from around the country invite us into their stores and provide a video tour of their best ideas—whether quick ideas you can implement tomorrow or ideas to consider in your next strategic planning session. This year includes a special segment on exceptional retailers in Ireland.
Now in its third year, Technology Edge provides industry retailer technology professionals a more personalized and high-value experience of learning, connecting and access to new solutions at the NACS Show. This forward-looking program teams up with NACS technology partner Conexxus to bring more value, deeper education and broader solutions to attendees. Think of it as a specialized program within the NACS Show—designed exclusively for technology professionals.
Over two and a half days, attendees will benefit from:
Heightened education sessions on critical issues such as data security, EMV and customer engagement.
Facilitated group discussions on highly relevant technology topics affecting our industry.
Comfortable networking opportunities that make it easy to build relationships with other tech professionals.
Access to new tech products and solutions at the NACS Show expo, while taking advantage of the Technology Edge Solutions Center: a hub to meet the day's speakers and connect with peers.
Closing out the 2016 NACS Show is legendary quarterback Peyton Manning, the NFL's only five-time Most Valuable Player and a 14-time Pro Bowl selection.
Plan Ahead
NACS has an online tool to help collect and store a personalized plan: the My Show Planner. The planner combines planning and logistics into one easy-to-use tool. Attendees can find exhibitors, sort by location (booth number, product category and exhibitor name) browse events and add personal appointments to save time and make the most of their visit. This online planning tool automatically syncs with the official NACS Show mobile app, seamlessly transferring information so access is easy from anywhere.
For more information about the NACS Show, visit www.nacsonline.com.