Nassau Candy Celebrates 25 Years with "Nancy Adams"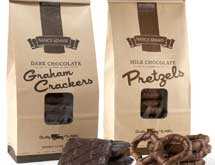 Dec. 18, 2012 – Nassau Candy, a leading manufacturer, importer and distributor of specialty confections and fine foods, commemorates today the 25th year of producing its Nancy Adams brand of quality confections. Available exclusively from Nassau Candy, Nancy Adams products are known for quality, taste and value by retailers and customers. Nancy Adams favorites include pretzels and graham crackers in premium milk or dark chocolate. Nassau Candy has relaunched these offerings in nostalgic brown "gift bag" packaging to compliment evolving merchandising strategies and help drive retail sales.
The packaging perfectly suits prestige presentation at confectionery shops, gourmet food and specialty markets, as well as inclusion in gift baskets and coffee house point-of-sale displays. Classically understated package coloring and materials allow the shopper to view the product inside, and impart a responsibly minimal feel that environmentally conscious buyers will appreciate.
"The history of our Nancy Adams brand is truly amazing," notes Randy Goldbaum, Vice-president of Confectionary Sales at Nassau Candy. "Its success is a testament to our commitment to quality and value, as well as to supporting our customers' merchandising efforts. Through the years, Nancy Adams products have been available in nearly every style packaging available, from box chocolate to tins to glass jars, and now nostalgia gift bags, too. But the delicious treats inside are what really distinguish Nancy Adams from the rest."
Nancy Adams chocolate-covered pretzels and graham crackers are manufactured in the USA by Nassau Candy using only the finest ingredients and real chocolate, and are certified Kosher. Both are available in dark and milk chocolate varieties. Graham crackers are individually packaged for retail sale in 7.5oz gift bags, pretzels in 5.5oz gift bags.