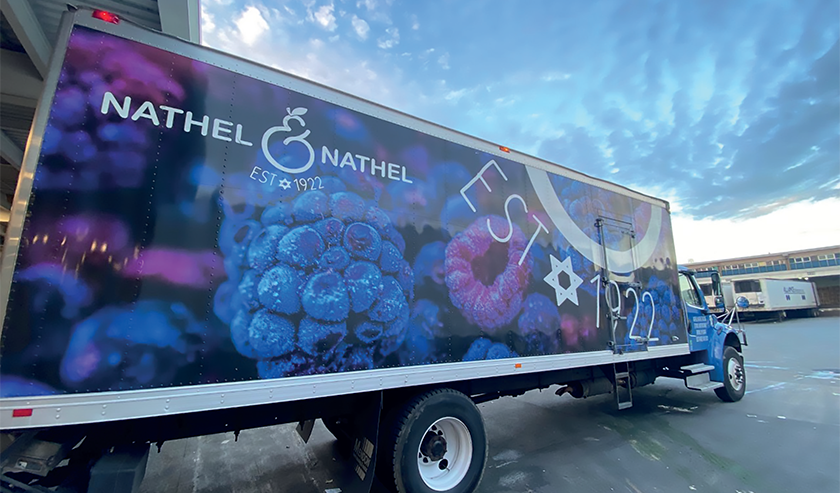 A century of success
As it celebrates 100 years in business, Nathel & Nathel is poised to grow further following the launch of its own online ordering system and a mammoth $140 million investment in its terminal market
Since we last featured Nathel & Nathel (Nathel), a popular New York City-based produce wholesaler, the pandemic has come and – ostensibly – gone. In its wake, it has left a dramatically different food and beverage market.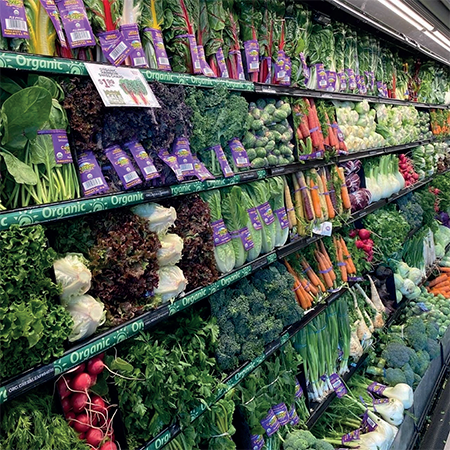 Ira Nathel, Owner and President of Nathel & Nathel, sat down with us to catch up, revealing how the company, which was established in 1922 by his great-grandfather, has fared since we last spoke.
"Nathel has changed a lot," he begins. "We've moved forward aggressively, growing year-on-year across all our business units. But we can't talk about our recent history without talking about the pandemic. Covid-19 was a challenging time for us; however, it was also rewarding in the sense that we could take care of our customers in a truly fulfilling way. We felt that it was our call to duty; we stepped up and became a key supplier, maintaining some kind of continuity for our customer base in turbulent times. At the center of that response was our employees; they rose to the challenge each and every day, despite the worsening situation rapidly unfolding around them. We're really proud of their response to the pandemic. Beyond that, we never quit; it was full steam ahead, and that brings us to where we are now.
"Recently, the shape and scope of the business has changed," he continues. "We've rethought our company vision, including the direction we want to go in and how we want the various business units to operate. That's also meant we've been able to bring on some produce labels and suppliers that we've not worked with before; they fit what the company is and what we want it to be in the future. Produce is increasingly about having labels that add value to the product you're selling; many customers have very strong feelings of brand loyalty, so we're leaning into that more than ever, investigating which commodities are worth pursuing and which shipping companies can add value on top of that. We also recently received our SQS certification, forming part of our vision: to always provide better produce and a higher level of service to our customers."
Nathel knows its market. For 100 years, it has put quality first and served New York's tri-state area with the finest fresh produce available. From apples to persimmons and bok choy to zucchinis, the range of fruit and vegetables offered by Nathel is truly extensive.
The list of household brands available is just as long: Sunkist, Del Monte, Halos, Farmers Best, OzBlu, OceanMist, Rainier, Little Leaf, Limoneira, to name a few. "For the last century, we've been carrying and selling the highest quality fruit and vegetables that money can buy," says Ira. "We pride ourselves on partnerships with these familiar and much-loved labels, and the bottom line is that most consumers see these names as a mark of value. Therefore, by carrying these labels, we are always going to be on top in terms of quality. That's part of our future vision for the company: continuing to stay at the fore of the market and ahead of the game.
"We've been doing business with many of our suppliers for decades," he reveals. "In fact, one of our longest-standing relationships is with Turlock Fruit, a Californian melon grower led by Dom Smith. As it's so expensive to grow a crop like melons in California, they're truly one of the last of their kind – and we've been working with them for in excess of 60 years. It's been a remarkable journey. Beyond that, we turnover stock very quickly: if we receive 200,000 packages on a Sunday, for instance, then the produce, which would've been picked just several days prior, will have left the warehouse within the next few days. So, in short, by sourcing the freshest produce from the best quality suppliers, and then using the finest shipping companies to deliver that produce, we firmly set ourselves apart from the competition."
More recently, Nathel released its own online ordering application for retail. Customers can enjoy a complete experience. The easy-to-use app has been bolstered by a sales support team, available to offer their advice on everything from seasonal displays to current market trends; daily and weekly cost updates provide suggestions for retail pricing; delivery services, carried out by a fleet of 40-plus trucks, will get things from A-to-B in a dash; and produce is kept fresh at Nathel's whopping 100,000-square-foot refrigerated warehouse space, featuring eight different climate zones to ensure optimal storage. Put simply, there's lots going on behind-the-scenes – and all of it stands to benefit Nathel customers.
"We supply an array of retail stores," Ira explains. "Some of the managers are very traditional; they've been in the indsutry for 30-plus years. That means they have more produce knowledge than I could ever have, but it also means they might not be as up-to-date with the latest and best practices when it comes to ordering. Before the digital revolution, customers would call us and we would have sales people sitting on the phone with them for half an hour, going down the list of what they'd like, how many, and so on. That might work, but it's extremely inefficient. We have hundreds of customers to take care of each day, and having a long conversation with them, talking about how the Yankees did last night, isn't going to optimize efficiency.
"As a result, we began to brainstorm how we could add more customers without having to bring in additional sales people," he continues. "The answer was a simple mobile app that offers customers our range of produce with prices per pound or per unit and the functionality to customize orders. In turn, that information is sent to our own ERP software, which we designed to be more accessible to young produce managers and seasoned veterans alike. It's been tremendously successful so far. We can take on orders from 30 or 40 stores, have our sales team choose lots for each, and then have them processed in as little as ten minutes. It's as simple as that."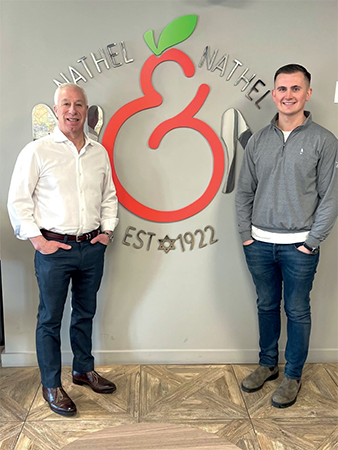 Nathel also works closely with multiple charitable organizations, including the Little Sisters of the Poor and the Mariano Rivera Foundation, partnering with the latter to raise funds for a new learning center in New Rochelle, NY. "Working closely with organizations such as these is a very important aspect of the company," says Ira. "As a family, we're culturally Jewish, and the Star of David is in our logo. So, naturally, faith plays a significant role in Nathel's legacy. Food security is a problem in the Bronx, which is unbelievable in a prosperous city like New York. We shouldn't have that issue but it's there. In an attempt to overcome it, the Little Sisters of the Poor come to us every single day and we donate produce to them. If we're able to serve our community and those who can't access fresh food, then we're going to continue to do that.
"We're also currently trying to improve the sustainability of Hunts Point Produce Market, out of which we operate," he adds. "The terminal market was built in the 1950s and is currently at 150 percent capacity, meaning we have to have nearly 100 overflow trailers connected to a separate warehouse facility. For us, that's an issue: those trailers are running on diesel engines 24-hours-a-day, and that will naturally emit a lot of carbon into the atmosphere. So, we are currently in talks with the city to add solar panels to these trailers, replacing the diesel ones and lowering the overall carbon footprint of the company and the market as a whole."
It's an exciting time at Hunts Point Produce Market, one of the biggest wholesale produce terminal markets in the country. Recently, the city's mayor announced new plans to invest $140 million in the historic location over the next 15 years. Though a significant investment, Ira is keen to point out that it's still not enough. "We're lobbying hard to get more money to upgrade and modernize the outdated infrastructure," he says. "The core foundations of the building are great, and it works just fine. But it certainly needs expanding and updating, so we're eagerly anticipating the next three-to-five years. Like many others at the market, we're ready to grow – we just need the opportunity to do so.
"Until then, we will continue to serve our customers, offering them the best produce at a reasonable price with the highest quality of service," he concludes. "Frankly, no one knows what the future is going to hold – especially in these turbulent times. In the long-term, though, we want to build Nathel as a brand so that we're not just known within the small terminal market base, but within the larger New York City community. To do so, we will continue to foster successful relationships with suppliers and customers alike, forging robust commercial bonds that will last another 100 years."