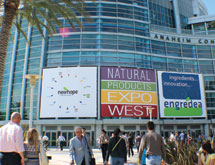 Anticipating more than 60,000 attendees at the 33rd annual Natural Products Expo West March 7 to 10 at the Anaheim, Calif., convention center, the expo's producer, New Hope Natural Media, is adding a new exhibit pavilion, education for­um and networking events. Be­ing held at the same time and place will be the trade shows and conferences Engredea for the ingredient industry and Nutracon for the supply chain.
The addition of new show initiatives to what is billed as the world's largest natural, organic and healthy products trade show is due to a 13 percent increase in Expo West's retail buyer attendees in 2012 compared with 2011.
As the healthy living market has grown, a corresponding increase has been experienced in the number of business leaders attending the show to find new products, meet the people behind the brands and take advantage of the forums, resources and opportunities this expo creates across all industry categories.
"Our goal each and every year is to enable businesses of any size to gain access to more decision-makers and strengthen their competitive position in the marketplace, by creating the industry's essential platform that connects retail buyers and exhibiting brands," said Show Director Adam Andersen.
The NEXT pavilion will debut this year specifically to serve the growing demand from new innovative brands entering the market. The main show floor halls have reportedly sold out in record time, and more than 2,200 companies across natural and specialty foods, organics, supplements, health and beauty, natural living and pet products will exhibit.
Among the new features and annual favorites on the Natural Products Expo West agenda are:
Keynote speaker Tracie McMillan, New York Times bestselling author of "The American Way of Eating."
The Specialty Diets Forum is new this year, and will explore successful retailing of specialty products in the gluten-free, vegan and allergy categories. Speakers include Robyn O'Brien, author of "The Unhealthy Truth," and HBO "True Blood" star and vegan, Kristin Bauer.
A newly created Food Truck Zone will convene each day of the show in the Arena Plaza to provide the first natural and organic trade forum of its kind.
The Expo West business program is for anyone new to the natural products industry or who is interested in launching a natural brand or product.
For industry news and coverage of Natural Products Expo West before, during and after the event, visit newhope360.com.