NBA tips off season of giving with "NBA Give BIG"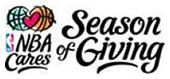 Nov. 25, 2013 – As the season of giving approaches, the National Basketball Association (NBA) will launch a comprehensive "NBA Give BIG" program that aims to encourage great work in the community during the holidays. The message is simple: Give. Share. Inspire.
Today, the league introduced its first-ever social media photo mosaic at www.NBA.com/NBAGiveBIG to celebrate and inspire charitable efforts around the world. By using the hashtag #NBAGiveBIG on Twitter and Instagram, fans can join the teams, players and all members of the NBA family by sharing photos, videos and stories from their seasonal community projects from Nov. 25 through Dec. 31.
In keeping with tradition, all 30 NBA teams and all 17 NBA Development League (NBA D-League) teams will host charitable events throughout the holiday season, including meal service, food drives and toy drives. Players, coaches and front office staff will post highlights from their events using the hashtag #NBAGiveBIG.
"The holidays are an important time to help those less fortunate and do what you can to support your community," said Todd Jacobson, NBA Senior Vice President, Social Responsibility. "This year, we're inviting fans to join us in sharing stories of giving back to hopefully inspire others around the world."
The campaign will be amplified exponentially through the NBA's global reach of more than 475 million fans and followers on social media. By including the hashtag of a favorite team's three-letter abbreviation (i.e. #OKC, #BKN, #BOS) within social media posts, fans can mark the location of their goodwill efforts. The NBA will aggregate all photos on its website at www.NBA.com/NBAGiveBIG and allow users to sort charitable activity by team to learn how people are giving back in each city.
At retail, the league is working with all Dick's Sporting Goods locations nationwide and Spalding to donate basketballs to NBA Cares community partners. For every NBA Spalding basketball purchased at Dick's Sporting Goods through Dec. 24, a basketball will be given to charities such as St. Jude Children's Research Hospital and the YMCA.
"Finding partners with shared values is vital when participating in a great program like 'NBA Give BIG,'" said Chris Brennan, NBA Senior Vice President, Retail Marketing and Development. "By partnering with Dick's Sporting Goods and Spalding, we'll be able to deliver this integrated, cause-related retail activation to fans throughout the country."
On Christmas Day, each of the 10 playing teams will host a gift exchange where all players and head coaches will remain on court following the national anthem to provide a holiday surprise to youth from a local community organization.
NBA Christmas Day Schedule: Time (ET)/Game/Network
Noon/Chicago Bulls at Brooklyn Nets/ESPN, ESPN Mobile TV, WatchESPN
2:30 p.m./Oklahoma City Thunder at New York Knicks/ABC
5 p.m./Miami Heat at Los Angeles Lakers/ABC
8 p.m./Houston Rockets at San Antonio Spurs/ESPN, ESPN Mobile TV, WatchESPN
10:30 p.m./L.A. Clippers at Golden State Warriors/ESPN, ESPN Mobile TV, WatchESPN