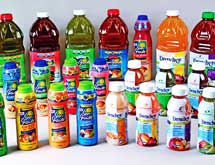 This nutritional beverage maker is meeting the growing consumer demand for healthy drinks by constantly creating new products. Chris New, founder, chairman, and CEO of NBI Juiceworks (New Beverage Insights Juiceworks, LLP), producers and distributors of Drenchers Fit 'N' Lean Super Juice Beverages and Sun Shower brand beverages, does indeed have his eye set on what's new and innovative, as his spate of new product introductions proves.
NBI has thrown no fewer than 45 SKUs out into the market despite the fact that it was founded only three years ago and didn't begin shipping product until September 2006.
"We're an innovation engine," explains New, whose strategy calls for highly targeted beverages based on exhaustive consumer research and retailer needs. New himself was the self-styled "innovation engine" for Tropicana for 10 years, where as vice president of strategic services he was charged with overseeing everything from marketing and sales to business development and new product development.
Today's juice-beverage category crosses all channels of the marketplace, from mainstream supermarkets and health food retailers to mass merchants, clubs, and convenience stores. NBI goes even further, targeting specific areas within stores, from produce to chilled dairy and shelf stable/ambient. Each item the company sells has a specific need in terms of customer, package size, and product benefits.
Americans make no bones about wanting health in nearly everything they eat and drink. Research firm companies and markets.com issued a report in July that noted, among other things, that the nutraceutical soft drink market is expected to reach $9.9 billion in the US by 2010, just behind Europe at $10.3 billion. The firm notes that nutraceuticals are increasingly tapping into children's health issues "highlighted by emerging markets for both dental health and muscle development products." The steady decline in consumption of carbonated soft drinks has helped make nutraceuticals "the most dynamic sector in soft drinks."
NBI's Drenchers line of "highly nutritional, all-natural, 100% Super Juices" custom-fortified all natural 100% juice includes five flavors, each with name that identifies the major consumer benefit available, all containing Bodyguard, a proprietary fortification package of essential vitamins and minerals.
Endurance (Grape Apple) fights fatigue and enhances energy.
Power (Orange Crème) fuels and repairs muscles.
Restore (Apple Kiwi Mango) restores balance and essential elements.
Immunity (Berry) offers an immunity booster that fights stress and fatigue.
Heart Healthy (Apple Kiwi Mango) promotes heart health and fights stress and fatigue.
The line is merchandised in the shelf-stable juice aisles of grocery stores, convenient stores, mass merchandisers, and warehouse clubs.
Needs states
New's MO is to focus on what he calls consumer needs states. What that means, he explains, is figuring out "who the customer is, where he is, and why he is using it." The model that emerges, then, is a cube, but the cube is not static.
"It changes throughout the day," New said. "When you woke up this morning you said, 'I want a cup of coffee and a glass of orange juice.' Why? Well, the coffee is a pick-me-up, and the orange juice is a healthful, nutritional way to start the day. Around 11:30 you're going to say, 'I want a Diet Coke.' Throughout the day your occasion and your situation change, so the reasons why—the benefits you're looking for—also change throughout the day."
People will drink across a wide variety of products, New continued, "everything from healthful products to simple refreshing products to restorative, regenerative products to evening relaxation products." The needs-state model was quantitatively tested, he added, "to help us understand who, where, why, etc."
All of the company's commissioned research was quantitative, asking questions like "What is the meaningfulness of Vitamin C to a consumer or a particular needs state?"
With many companies holding back the new product floodgates due to already jammed retail shelves, New says he is unconcerned. "They are all in different places. We won't have 45 SKUs in any one channel or store location. I may have nine to 13 SKUs over in the supermarket produce department, anywhere from three to seven in the chilled dairy—again, a slightly different brand—and then over in the ambient aisle next to Ocean Spray and Mott's, I'll have five to 13 SKUs. Add them up and that's 23 to 25. Then start taking convenience stores, all-natural stores, clubs, and mass merchants. Each one of them takes slightly different SKUs."
NBI has established bicoastal distribution with some penetration in the Midwest. As New recalled, "We started in California and spread throughout the Northwest."
No additional SKUs are planned for calendar 2008, New says. "We just launched most of these SKUs in May, so we won't be adding any; this is the innovation for '08." That said, he plans to remain aggressive when it comes to innovation. "Every six to eight months, you'll see us bring in another three to five SKUs for this category."
For 2009, New added, NBI plans to go deeper into channels. "We'll penetrate the store format more, where in the store we go." At the same time, custom fortification will be emphasized. "We just beat everyone in this last round on custom fortification."
The Drenchers 100% "super juice" Endurance product, for example, "will provide you with greater endurance while making you feel stronger and energized all day long," said New at the time of its introduction. It comes in 12-ounce ($1.99 retail) and 64-ounce ($4.99) sizes.
In addition to its customized nutritional value," said New, Endurance has taste-tested incredibly well with consumers. "Ninety percent of those who tried it said they liked it 'extremely well' or 'very much'. You can't do much better than that."
Each 8-ounce serving of Endurance has only 120 calories and contains two servings of fruit. Available in shelf stable 12-ounce and 64-ounce sizes, it contains Bodyguard, a fortification package of 20-plus essential vitamins, nutrients, amino acids, electrolytes, and herbs. They include green tea extract (with EGCG, a powerful antioxidant helping to protect cells from free radicals), glucosamine (which promotes and protects healthy joints), guarana (enhances energy levels and stamina and contains caffeine), golden root (increases blood flow, mental alertness, and physical stamina), ginseng (enhances heart health and energy levels and helps reduce stress), grape seed extract (a powerful antioxidant said to reduce chances of premature aging and heart disease), goji berry (promotes longevity and boosts immune function), and key amino acids (such as taurine, which promotes heart health, immune system defense, and stress relief and praline, which strengthens the heart). Endurance also contains essential B vitamins (B3, B5, B6 & B12) and antioxidants (A, C & E) for increased protection, energy, strength, and focus.
For a specific set of consumers shopping in just the right part of a store in certain retail channels at a particular time of the day, that's music to the ears.