New Hampshire State Liquor Commission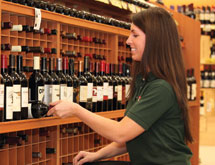 It takes more than good customer service for a retail business to succeed, but a retail business surely cannot succeed without it. However, that is just one of the keys to the success of the New Hampshire State Liquor Commission's 77 stores throughout the state.
"We have a lot of great people that work here, believe me," Chairman Joseph Mollica emphasizes. "The liquor commission is indebted to the people currently that work here and to the legislatures past and present that have supported us. We're not going to let anybody down. We're here to sell a product responsibly and safely."
In the state whose motto is "Live Free or Die," people have the freedom to buy liquor and anything else without sales tax. Because the "sin tax" many states levy on liquor keeps escalating, purchasing liquor in New Hampshire is attractive not only to the state's residents, but also to its great number of visitors and its neighbors in adjoining states.
"New Hampshire has a certain look and feel to it," Mollica points out. "People come to the state and move to the state because of that look and feel. It's a neat way of life, and people really enjoy it. I know that's why I moved to New Hampshire – because of the way of life and the general attitude about the people. It doesn't say 'Live Free or Die' on your license plate for nothing."
Out-of-state Marketing
People from more populous states like Massachusetts – from which Mollica moved – have second homes in New Hampshire and vacation there for the skiing, hiking, boating and the fall foliage.
"We realize that 50 percent of our business comes from cross-border, so we market heavily in the neighboring states, not only radio, print ads, emails, but also Facebook and Twitter," Mollica states. "We have about a $2.1 million advertising budget, and most of that budget is spent cross-border, because 30 to 40 percent of that business comes from Massachusetts, and the rest from Maine, New York, Connecticut, New Jersey and Vermont."
Nearly 20 of the commission's 77 retail stores are located near the state's borders, with the top-grossing stores being the six that border Massachusetts. The commission uses zip code surveys of purchasers in its stores and email subscriber data to determine the locations of its customers.
"We have an e-mail signup where we target specific areas and specific groups of people for our email coupons, and we give special pricing and special discounts just to those people to keep them interested in shopping in our stores," Mollica explains. "We're very aggressive in discounting, and we use that outlet shopping look and feel in our stores to supply people with the environment that they feel comfortable to shop in."
Bulk Buying
The commission also pays careful attention to the price of merchandise in neighboring states. "We are keenly astute to the pricing in our neighboring states, and we are very, very competitive on both spirits and wine," Mollica maintains. "I would be hard-pressed to say we're beat across state lines in spirits in any category." The exception would be loss leaders that are priced at or below cost.
Nevertheless, the stores average margins from 30 to 32 percent. "I was in private industry prior to taking the job at the commission," Mollica reveals. "I owned a liquor store and I owned five restaurants, so I'm very familiar with the markup that private industry works on, and our markup is considerably higher.
"We're able to cut better deals with our brokers and suppliers because of the quantities that we buy," he emphasizes. "Quite frankly, we have the ability and the wherewithal to be timely in our payments or buy products in bulk up-front through suppliers and brokers in order to achieve better pricing in our stores, and we pass that on to our consumers."
The commission's net sales were up 4.8 percent in FY2011 over FY2010 and have risen steadily each year since at least 2000. Total sales increased approximately $23 million in FY2011 and profits were up $4.8 million from fiscal year 2010.
Since being established at the end of Prohibition in 1933, the commission has contributed more than $2 billion to the state's general fund. It is on track to contribute another $1 billion in the next eight years, Mollica maintains. The commission's retail outlets sell no beer, which along with wine can be purchased at grocery or convenience stores in the state.
New and Remodeled Stores
The New Hampshire State Liquor Commission has been aggressively remodeling its stores and building new ones over the last several years. "Some of our stores are aging, and some of the facilities are not the best facilities that they could be, or the facilities aren't in the best locations they could be," Mollica concedes. "When you take a look at an aging fleet, and you want to drive the profits and drive people to your stores, the way to do it is to offer them a better shopping experience, and that's what we're trying to do."
In 2011, the commission opened three new stores, and in 2012, it plans to open eight. Of those, two new 20,000-square-foot stores will replace two 8,600-square-foot stores built in the early 1970s with rest stops on each side of an interstate highway. Also built with the new stores will be welcome centers, gas stations and new rest areas. Additionally, in the last three years, the commission has remodeled 10 of its stores and plans to remodel another seven in 2012.
The new 20,000-square-foot Nashua store built in 2011 received LEED Gold certification. It features 28 geothermal wells for radiant heating and cooling of the store and clerestory skylights to allow daylighting. "It's a unique-looking building," Mollica declares. "We tried to tie into the theme of New Hampshire. We own that particular property, so we left a certain amount of green space on it."
The New Hampshire State Liquor Commission's employees are union members who are in the state retirement program and receive state health benefits. Some of them have worked for the commission for up to 40 years. "We have a lot of longevity with our employees – 20 years is not uncommon at all," Mollica asserts. "Now we're experiencing a turnover of some longtime employees, and we have some wonderful fresh faces – high-energy young people with some great ideas and a new fresh outlook that will take the commission into the next 75 years."
Liquor Adds Millions to State
The New Hampshire State Liquor Commission regulates the sale of alcohol in the state of New Hampshire. It is responsible for the operation of all state liquor stores and their merchandising, advertising, warehousing and transportation. New Hampshire is one of 18 control states in the nation where the government directly controls the distribution of alcoholic beverages as well as being responsible for the regulation of alcoholic beverages, contributing more than $100 million to the general fund each year.