New Shoes for those in Need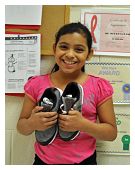 Nov. 20, 2013 – The holidays will be a little brighter for some special children across the country as Nordstrom, New Balance, Shoes That Fit.org and Nordstrom customers who choose to participate come together to once again donate new shoes through the Nordstrom Holiday Giving Tree program. Since 2010, Nordstrom has distributed 33,700 pairs of shoes through Shoes That Fit.org, a nonprofit organization that provides new shoes and other life-changing, essential items to children who might not otherwise have access to them. This year, the company is looking to give 10,000 more.
From November 29 through December 24, customers can visit any full-line Nordstrom store or one of 36 participating Nordstrom Rack stores to find tags that list the names and shoe sizes of local children in need of new shoes. Customers are invited to purchase a $10 tag that will help donate one pair of new, New Balance shoes to school-aged kids around the U.S. Tags can be found decorating holiday trees in full-line stores and at the register in participating Nordstrom Rack stores.
"The Giving Tree really is a special tradition at Nordstrom and this year we're excited that many of our Nordstrom Rack stores are also participating," said Erik Nordstrom, president of stores. "Every child deserves shoes that are comfortable and fit well and we're so glad to team up with Shoes That Fit.org, New Balance and customers who'd like to participate to make sure 10,000 kids will get them."
"It's hard to overstate the impact that a new pair of shoes can have on the life of a child. Being comfortable and confident means that children can focus on learning, playing and just being a kid," said Roni Lomeli, executive director of Shoes That Fit.org. "We've been working to address this basic, but important need since 1992. Thanks to the support of Nordstrom and New Balance, we're able to expand our programs and, ultimately, reach more children who need our support."
"New Balance is proud to join Nordstrom and Shoes That Fit to ensure thousands of children nationwide get a gift of athletic shoes this holiday season through the Nordstrom Giving Tree program," says Jeff Ressa, strategic account manager, New Balance. "This annual tradition helps kids to lead more active and healthy lifestyles and we are thrilled to once again be part of this wonderful program."