New Urban Lifestyle Brand Pinch NYC Launches A Fashion Trend And Strong Community Voice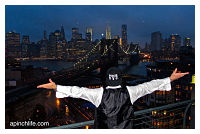 July 18, 2013 – Inspired by the streets of New York City, Pinch NYC is the newest urban lifestyle brand to hit the fashion world. Pinch NYC is a mash-up of New York City's high-end and urban designs meant to empower individual attitude, fashion expression and community involvement for cancer awareness.
Pinch NYC's Trucker and Pro Shape style hats are the first fashions in the line. These signature hats are created for and sought after by both men and women, proving to be a wardrobe staple that amplify any style, whether on the basketball court, in a boardroom or sauntering down 5th Avenue in stilettos.
"Fashion is an artistic statement. How people wear what they buy is an outward presentation of their inner expression," says Jason Pinchoff, owner and designer. "I've always loved fashion because it gives someone an opportunity to own his or her attitude and style. I want to help stir up that excitement with a 'pinch' of individuality and a 'pinch' of New York City."
After spending a decade as a producer in the music industry, rubbing elbows with lyrical legends, Pinchoff was inspired to develop this unique brand. Pinch NYC's "Diva" and "Hustla" hats are seen worn by celebrities as Hip Hop legend Dana Dane and celebrity fitness coach Mark Jenkins.
Pinchoff's mission, however, also extends to the community at large with a dual passion for supporting cancer awareness and bringing comfort to the families of cancer patients. A portion of every Pinch NYC fashion sold goes to support the endeavors and mission of The Linda B. Pinchoff Foundation (www.bringavoice.com).
"As a result of witnessing my mother tragically endure breast cancer, I made it my life-long goal to 'bring a voice' to the front lines of cancer awareness and for the families of those fighting this horrible disease," says Pinchoff. "We are excited to 'PINCH Cancer' with our limited edition hats in honor of October's Breast Cancer Awareness month. Everything Pinch NYC does is for fashion, individuality, artful expressions and the community."