New York Fashion Week Wows Crowds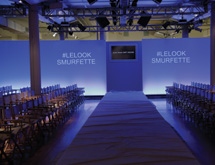 The largest single media event in New York City, the February iteration of Mercedes-Benz Fashion Week, took place Feb. 7-14 at Lincoln Center. A destination for top designers, Fashion Week is an opportunity to showcase collections to more than 100,000 buyers, editors, retailers, celebrities and VIPs from around the world. The event included more than 80 designers' shows over eight days.
Producing the event was IMG Fashion, which represents many of the world's top models, leading designers and influential photographers, art directors and stylists. IMG Fashion produces renowned fashion events around the world, represents some of the industry's top organizations and federations and works with various local and national governments. This is all part of an effort to create regional and international fashion platforms.
Emerging talent, established brands and returning designers were represented among the Fall 2013 collections presented at the event. Some of the collections included work from Project Runway, Tommy Hilfiger, Vera Wang, Rachel Zoe, Ralph Lauren and Calvin Klein Collection.
One of the more unique presentations during the event featured one of the entertainment world's most iconic animated characters: Smurfette. Sony Pictures Animation and Junk Food Art House partnered on the show, which was in part a tribute to the only female character in "The Smurfs."
The Le Look Smurfette catwalk show, presented by Conair, took place at the Style 360 space on Feb. 13. Curators of the collection were Lois Sakany and Sami Grand-Pierre of HighSnobette. Described by its creators as a "Gamine Chic" collection, the Smurfette-inspired fashions included mod dresses, sharp trousers, flip skirts and three-quarter-length cropped jackets.
The debut Smurfette fashion line should help build the excitement for the upcoming feature film, "The Smurfs 2." The sequel to 2011's "The Smurfs" is one of the most anticipated films heading to the theaters this summer.
In fact, the collection was heavily inspired by the upcoming film, which is set in Paris. The designers played with phrases and words from the film, such as the "Schtroumpfette Paris" gray t-shirt, "Vials of Blue Essence" sweatshirt and the "La La La" theme song dress. Other highlights of the Smurfette collection included the "Smurfette No. 1" varsity sweatshirt with silk sleeves and a top adorned with the phrase "Parlez-Vous Anglais."
The Le Look Smurfette line will hit the shelves at select premium retailers during the coming few months leading up to the film's release. The next New York Fashion Week, highlighting the spring and summer collections for 2014, is scheduled for September 5-12. Meanwhile, "The Smurfs 2" hits theaters on July 31.