News from Sony, KitchenAid and Deckers Outdoor Corp.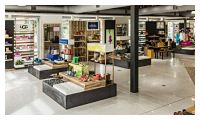 March 18, 2014 – From around the retail world today came announcements from some of the leading players in their categories. Sony and KitchenAid each announced new product launches, while Deckers Outdoor Corp. announced the opening of a new flagship store in Goleta, Calif.
Deckers Outdoor Corp. announced the grand opening of its inaugural Brand Showcase store at the company's new state-of-the-art headquarters. The flagship store delivers an elevated environment for Deckers brands to display their core heritage footwear, as well as seasonally significant offerings, while serving as an innovation lab to continually test new technologies and merchandising approaches, aimed at further improving the omni-channel customer experience.
The Brand Showcase store features an extensive breadth of product across all Deckers brands. In addition to the rich array of offerings, which includes more than 1,000 SKUs, customers have the option to pick up their purchased product in-store or ship overnight, free of charge. Such an efficient retail model underscores the company's consumer-centric growth strategy that includes the introduction of compelling products and engaging store experiences.
"Our new store will serve as the showcase for all of Deckers' brands and our expression of next generation retail. With the launch of this 'innovation lab,' we're better able to listen to customers' feedback, make product and service adjustments more efficiently, and heighten the overall customer experience," explained Dave Powers, President of Omni-Channel for Deckers.
Sony announced three new wireless speakers are available today. The SRS-X9 High-Resolution wireless speaker system, and the SRS-X7 and SRS-X5 wireless speaker systems, developed in collaboration with Sony Music, bring clear vocals and bass-rich thumping tunes to any living space or on the go.
These new wireless speakers, with clean lines of metal and glass, feature a geometric "Definitive Outline" design consisting of 12 outlines around the square form to create the most suitable sound wave. All three models also offer a multitude of connectivity and streaming options, at home and on the go. The speakers easily connect wirelessly to nearly any Bluetooth-enabled device, including smartphones, tablets and computers, and can connect to NFC-enabled devices with a simple tap. All three models also support on-board WiFi for direct access to online music and internet radio services such as Music Unlimited, Spotify, and TuneIn Radio when consumers download the SongPal app to their mobile device, as well as Apple Airplay and DLNA.
The flagship model, SRS-X9 wireless speaker, supports High-Resolution Audio. The SRS-X7 has a similar modern design but is more compact than the SRS-X9. The portable SRS-X5 is packed with 20W of powerful audio and offers up to eight hours of continuous playback. All three models include Sony's advanced Digital Sound Enhancement Engine (DSEE HX), ClearAudio+, an S-Master Digital Amplifier and built-in NFC technology.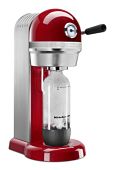 KitchenAid announced its entrance into the home carbonation category with the introduction of the Sparkling Beverage Maker, a premium countertop soda maker developed in collaboration with SodaStream International, Ltd., the world's leading manufacturer and distributor of home carbonation systems.
Echoing the curved, streamlined silhouette of the brand's iconic stand mixer, the Sparkling Beverage Maker features all-metal construction. It offers four carbonation settings, a one-liter BPA free plastic bottle, and a 60-liter CO2 tank. Available in Aqua Sky, Cobalt Blue, Contour Silver, Empire Red, Green Apple, Onyx Black, Tangerine and White starting in June,
"As with all KitchenAid products, we never enter a new category unless there's something differentiating we can offer," said Beth Robinson, senior manager of brand experience for KitchenAid. "The all-metal design and eye-catching aesthetics of this model make it uniquely KitchenAid."