Pittsburgh Steelers fans are known for waving the Terrible Towel and Green Bay Packer fans are famous for epic tailgates. Many fans show support by wearing their favorite player's jersey. Some fans are fashion conscious while others are more laid back and embrace casual clothing. Seriously hardcore fans hold season tickets and flock to every home game. Other fans show support for their team by hosting parties in the stadium parking lot. Then there are those that prefer to watch the game at home.
The NFL knows this. It recognizes and celebrates the differences between its fans and encourages licensees to develop products to fit individual lifestyles. "We say lifestyle and we mean your lifestyle," says Rhiannon Madden, vice president of consumer products. "We listen to our fans about what they want. Not every fan is the same. So we're working on new ways for our fans to engage with the NFL."
As football fans prepare for the return for of the 2018 season in September, the NFL will launch its new "This Is How You Fan" campaign. The campaign, which celebrates individuality, will promote a variety of new lifestyle products, accessories and apparel. "It is about how you fan," Madden says. "You can fan any way that is right for you. It's about your personal style. And whatever your style is, we have a product that will help you show off your team pride."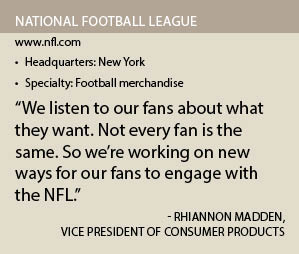 Each NFL licensee has been vetted by the NFL to offer new and unique ways for fans to show their team pride. From wine glasses and cutting boards to folding chairs and apparel, these licensees have merchandise for every NFL team.
Some of NFL's licensees include '47, Boelter, Carhartt, Concept Sports, Forever Collectibles, Great American Products, Imperial USA, Junk Food Clothing, Levi's, Logo Brands, Outerstuff Ltd, Picnic Time, Sports Licensing Solutions, Timex and The North West Company. "We have a limited amount of licensees," Madden says. "And we consider our licensees to be the best in class."
Homegating Necessities
If you haven't heard the term "homegating" yet, it's time to crawl out from underneath that dusty rock. The NFL coined the term a few years ago and it's been a steadily growing trend that is beginning to rival tailgating. While tailgating generally involves partying in the stadium parking lot or while parked close by, homegat ing adds an element of intimacy to the celebration – it's done while watching the game at home.
Instead of schlepping all the traditional football foods and refreshments to the stadium parking lot and balancing them on the hood of a car, some fans prefer to party at home. From lavish parties with over-the-top decorations to casual gatherings with NFL teams' logos on paper plates, cups and napkins, homegating is more convenient and comfortable, and the bathrooms are usually cleaner.
"Since a lot of our fans prefer to watch the game at home, we want to give them NFL products that fit their personal aesthetic ," Madden says. "Between cutlery, coasters, drinkware, plates, dishes and tumblers, we have everything you need. If pint glasses aren't your speed, we have wine glasses, too. We have some really high-end products."
Boelter, one of the NFL's long-time licensees, is known among football fans for its team-specific wine glasses, pint glasses, ceramic coasters and ceramic steins. "We've had homegating products for many years, but we haven't always referred to them as 'homegating,'" Madden adds. "But this campaign is growing and continues to evolve each year. We are bringing our homegating products together as a collection."
As the popularity of homegating continues to rise, the demand for team-specific products is increasing. Some NFL fans take their homegating decorations seriously. They've bought team-specific chip and dip bowls and casserole dishes. Cutting boards, offered through NFL licensee Picnic Time, are another favorite. "They are big sellers," Madden says. "It's something that looks very elegant and it's also unexpected."
Then there are blankets and pillows offered through The Northwest Company, wall art and furniture from Imperial USA, floor mats from Sports Licensing Solutions and a variety of bags, tents and folding chairs from Logo Brands. NFL's homegating merchandise seems to have no limit.
Lifestyle Apparel
Long gone are the days when everyone wore the same standard t-shirt or jersey with a team-specific logo. More fans are now focused on expression. Be who you are. Make your own footprints. Unique silhouettes, a variety of materials and a selection of styles are desired. The NFL is responding to the demand of its fan base. "Someone who is more fashion conscious may want to wear something vintage and off the shoulder," Madden says. "But we have fans who are more casual. It's really about individual style."
It's also not only about game day. More and more fans are looking for team-specific merchandise for everyday wear. "Do you need something to wear to brunch? To the gym? We have products that will suit your lifestyle." Some of NFL's licensees have even joined forces to produce new lifestyle merchandise this year.
This includes a collaboration between Levi Strauss & Co. and Junk Food Clothing and another between '47 and Carhartt. G-III Apparel Group, another high-profile NFL licensing partner, is offering active on-the-go looks through its line called Touch by actress Alyssa Milano. "She's a fan," Madden says. "It's definitely a fashion-forward brand." Finally, the NFL hasn't forgotten about its smallest fans. Through its partnership with Outerstuff, it offers a variety of apparel for juniors and youth.
Vintage Meets Denim
It's a marriage made in fashion heaven. Levi Strauss & Co. has joined forces with Junk Food Clothing to collaborate on a new lifestyle line of apparel for the NFL. Junk Food Clothing burst onto the scene in 1998 as the original vintage and retro t-shirt company, forever changing the premium t-shirt market.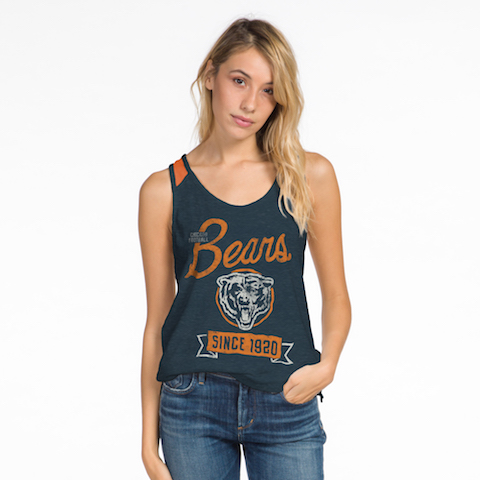 Since then, it has also become known for its collection of concert t-shirts. Levi Strauss & Co. has been on the scene since the mid-1800s and has achieved worldwide fame for its Levi's brand of denim jeans. The brand was a favorite among cowboys, lumberjacks and railroad workers in the early 1900s and later among hippies and rockers.
It also started the "blue jeans craze" of the 60s. "It's really interesting for us to see these two licensees come together and to observe their synergy," says Rhiannon Madden, NFL vice president of consumer products. "They are a good match because they serve a similar consumer – a consumer that is into fashion," she adds. "It's exciting. I think of this partnership as being a lifestyle driven fashion collaboration. It's an innovative approach to merchandise our product in a very fashion forward way."
Both companies are known for producing high-quality merchandise with flattering silhouettes and design-driven art. Madden describes the creative synergy between the two NFL licensees as producing authentic and socially relevant pop culture products that blend sports, entertainment and music. Launching in July-August, the new lifestyle line will feature denim shorts and jackets, fleece jackets and soft t-shirts in a variety of silhouettes. The merchandise will be available online from both retailers as well as from the NFL website. Junkfood and Levi's have both been NFL licensees for a number of years.
Dynamic Duo
When it comes to sports apparel, Carhartt and '47 know how to throw a fashion punch. Both companies are known for their brawny apparel and have long been a favorite among sports fans. Now the duo has partnered together to create a line of football caps and knit hats for NFL's new lifestyle collection. Since 1889, Carhartt has made quality work wear for men and women.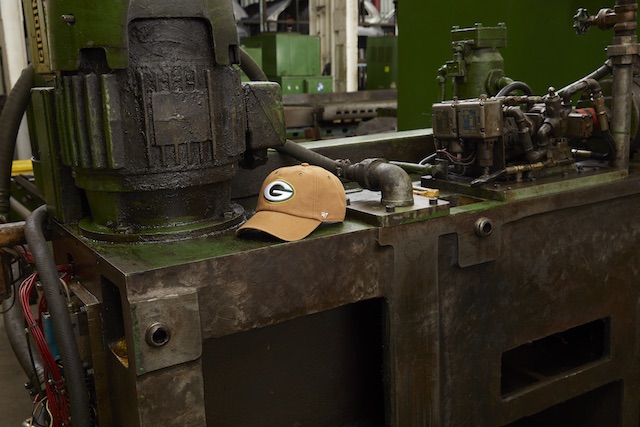 The company is famous for its work clothes such as jackets, coats, overalls, coveralls, vests, shirts, jeans, dungarees and fire-resistant clothing. Founded by twin brothers Arthur and Henry D'Angelo in 1947, '47 is known for its premium sports lifestyle apparel and headwear. It maintains licenses to create headwear, apparel and accessories for the NFL along with other national, major league and college sports teams and organizations.
Launching in August, the new line of headwear will be available through at the retail stores of both brands and on their websites. "It's another way to reach our fans," says Rhiannon Madden, NFL vice president of consumer products. "We have such a massive fan-base and not every style is going to appeal to every fan. But a lot of our fans are also fans of Carhartt and '47 has long been a well-respected NFL licensee that is very much trusted in the headwear arena."
Carhartt and '47 are both iconic brands that have been very popular among NFL fans, she adds. Carhartt and '47 collaborated to design the new headwear style with a combined influence and signature elements from both brands. "They are doing a number of different headwear silhouettes," Madden says. "'47 product is always so well done and our fans respond to it. They produce beautiful product."