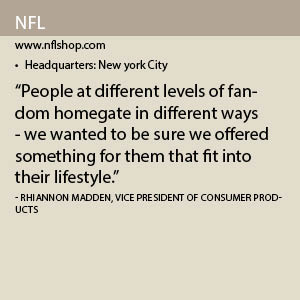 From wine glasses and cheese boards to beer steins and chip bowls, the NFL offers a wide variety of products for fans. "When you want to throw a party at home, we have something for you," she adds. "Regardless of your style, whether elegant or casual, we have something that will create an awesome atmosphere for you and your family."
Longtime NFL homegating licensees include the Picnic Time family of brands, which makes serving trays, cutting boards and other entertaining products; Boelter Brands, a maker of beverage and food-related merchandise; and Tervis Tumbler, a maker of water bottles, tumblers and other drinkware.
Though the league coined the term homegating internally several years ago, the concept has been emphasized even more in recent years. "Every year we add new categories as we learn more about what fans are interested in," Madden says. "We're always expanding and getting to know our fans better."
Homegating products have a dedicated section on www.nflshop.com, the league's official merchandise e-commerce platform. "For many years we had all these products, but they weren't telling a story – they were just standing on their own," she adds. "When we looked at how fans watched the game, we thought wait a minute, we need to tell this story, so we pulled everything together into a single collection and made the concept easier to understand."
Bridging Cultures
In addition to serving homegaters with expanded product lines, the NFL continues to support the fans who attend games regularly with tailgating items. "Our fans have a great passion and enthusiasm for tailgating," Madden says. "It's a big part of our culture, so we wanted to continue to focus on that and perform an inventory of what we have to offer those fans."
One of the league's long-standing outdoor lifestyle product licensees, Logo Brands, recently expanded its partnership with the NFL. The company has manufactured team-branded tailgate items such as portable chairs and tents for more than a decade. Logo Brands since April has expanded its NFL products to include portable tables, coolers, totes, caddies, camping and beach tents and canopies, beach umbrellas, event shelters and gazebos. The company's products are sold online as well as in national and independent retailers. The NFL's other longtime licensing partner in the tailgating category is Rawlings.
The NFL recently bridged the gap between tailgating and homegating during a "Tailgate to Homegating" event before a Chicago Bears home game. "We hosted people who have been tailgating for years," Madden says. "It's fun to see how inventive our fans can be when they celebrate and get psyched up for a game. We wanted to show them how they can do the same thing with homegating."
'Studio to Stadium'
For NFL fans, apparel is just as big a way to display their team pride as homegating and tailgating. One recent focus for the league is the athleisure fashion trend – the wearing of workout or athletic apparel in other settings. "There are many occasions and a myriad of ways you can show team pride, whether you're wearing apparel to work or out to brunch," Madden says.
Examples of athleisure wear include t-shirts, hooded sweatshirts and yoga pants. "These are garments that are comfortable, fit well and work with different looks," she adds. "These are versatile items that you can really wear anywhere." The league has several partners in what it calls the "studio to stadium" trend, including Nike, Touch by Alyssa Milano and 47 Brand.
Athleisure wear is one of the apparel categories being emphasized in the league's NFL Lifestyle campaign. The others include men's, women's, plus size and loungewear. The campaign stresses different apparel types across several categories that fit within fans' everyday lifestyles.
A Supportive Partner
The NFL sees its role in product licensing as that of a brand steward. "It's incumbent upon us to give fans products that help them best showcase their team pride, whether that's a Tommy Bahama sweater or a t-shirt they can wear on casual Friday at work," Madden says. "We have a large and diverse fan base, so our licensing approach is not 'one size fits all.' We want to find the right balance of products that appeal to our fans and that they feel good wearing or showing off when they're homegating or tailgating."
The league believes in supporting all of its licensing partners. "We work hard to build partnerships that lead to great business for our partners," she adds. "We want to make sure all of our partners have strong business at retail."