Nickelodeon And FLuD Team Up To Release Limited-Edition Teenage Mutant Ninja Turtles-Inspired Apparel & Accessories Featuring Designs By Artist Ron English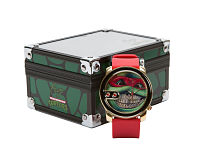 Dec. 17, 2012 – Nickelodeon and FLuD announced today a partnership to create a series of limited-edition t-shirts and watches inspired by Teenage Mutant Ninja Turtles. The line features interpretive designs by artists including, Ron English, one of New York's most prolific artists. All pieces from this collection are available now via FLuD's online shop and finer boutiques nationwide.
"We are thrilled to partner with FLuD to develop Teenage Mutant Ninja Turtles products," said Alix Kram, Vice President, Lifestyle and Retail Marketing, Nickelodeon Consumer Products. "Not only are we combining our two iconic brands, but we have the opportunity to work with amazing and influential artists like Ron English to develop visually stimulating and memorable pieces."
Each watch features an over-sized face with a Teenage Mutant Ninja Turtles graphic and a graffiti-style logo on the band. The launch is also joined by the release of four graphic Tees carrying a similar motif.
"Ron English is a legend, and the Teenage Mutant Ninja Turtles had every kid in the 1980s dreaming of turning into a turtle – and I'm sure they had pet sales for turtles flying through the roof too!," said Doug Cohen, Founder and CEO, FLuD Watches. "Being able to see a legendary artist put his spin on an iconic creation like Teenage Mutant Ninja Turtles is absolutely crazy – and being able to have the canvas he uses for it be a FLuD watch, is just an honor."