Nickelodeon and KidKraft Introduce Designer Wooden Toys, Doll Furniture and Accessories Featuring Dora the Explorer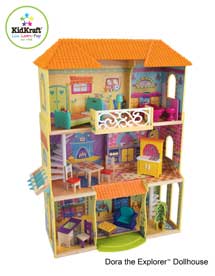 June 19, 2013 – Nickelodeon and KidKraft, a Dallas-based children's furniture and toy manufacturer, have created a line of designer wooden toys and doll furniture and accessories featuring Dora the Explorer. The new line of products includes a lifelike kitchen and dollhouse, both standing at almost four feet tall. Available this summer, the kitchen and dollhouse bring the fun and adventure of Dora to life with vivid colors and playful features. Additionally, doll furniture and accessories inspired by Nickelodeon's hit animated preschool series will be introduced to the line later this year.
"The KidKraft Dora Dollhouse and Dora Play Kitchen are great additions to our toy line. We are excited to partner with Nickelodeon in creating a one-of-a-kind, beautifully detailed kitchen and dollhouse that stir young children's imaginations," said Matan Wolfson, KidKraft Sales Manager.
"We are thrilled to partner with KidKraft to develop this beautifully designed Dora-themed product line," said Manuel Torres, Senior Vice President Global Toys and Electronics for Nickelodeon Consumer Products. "As a leader in the industry, KidKraft has created innovative and engaging toys that bring to life the magic and adventure of Dora the Explorer; providing fans with hours of limitless play."
Fantasy has come to life with KidKraft's wooden Dora Dollhouse—right down to the themed wooden furniture. Each of the 13 crafted furniture pieces is unique to Dora's casa—including a charming bed for Dora to take naps. Splashes of vivid color and artwork are everywhere, playing up Dora's adventure theme throughout the dollhouse. Playful details like the terracotta style roof, open balcony, wooden swing and simulated tile entry add additional realism. Even Dora's best friend, Boots, appears among the artwork.
Young explorers can imagine cooking for a wonderful fiesta for Dora and her friends with the Dora Kitchen. Like the dollhouse, the Dora Kitchen is made of wood, and offers bright colors and playful artwork to reflect the animated style throughout in the Dora the Explorer series. The Dora Kitchen even features a plastic molded terracotta style roof that complements the Dora Dollhouse. Other lifelike details like burners that light up with realistic cooking sounds and knobs that turn and click add an engaging, interactive element.