Nine West Introduces Their Latest Shoelaboration Partnering With Cameron Silver, The "King Of Vintage" Fashion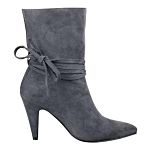 Oct. 7, 2013 – Nine West, a division of The Jones Group, looked no further than Decades store founder and vintage connoisseur, Cameron Silver and Nine West's Contributing Style Director and former Shopbop Fashion Director Kate Ciepluch, to create their latest Shoelaboration inspired by 80's punk. Shoelaborations is a collaborative platform celebrating fashion, design, music and pop culture through creative partnerships with unique artistic talents.
Debuting in October 2013, the Cameron Silver for Nine West collection lives and breathes rock 'n roll. Comprised of six limited edition styles, the capsule includes d'orsay flats, classic and scalloped pumps, slouchy booties and the ultimate, show-stopping over-the-knee boot and matching fold-over clutch. The exclusive collection represents a modern interpretation of the punk movement's most iconic trends including neon accents, camouflage calf hair and eye-catching silhouettes. The Cameron Silver for Nine West collection will be available for $69 to $299 at top Nine West stores nationwide and at Ninewest.com.
"I have always been a fan of punk-era fashion and was thrilled to have the opportunity to translate my inspiration into this Nine West collection with Kate. These shoes are modern with a vintage twist and are a true representation of what we both do best," said Cameron Silver.
As founder of Los Angeles' premier destination for timeless vintage and star of Bravo's hit series, Dukes of Melrose, Cameron Silver's discerning eye and illustrious knowledge of fashion and accessories has garnered Decades' international recognition. Nine West's resident style guru, Kate Ciepluch, is renowned for her fashion expertise and ability to design coveted, wearable pieces for a contemporary audience. Together, Ciepluch and Silver designed a collection that pays homage to 80's punk legends Debbie Harry and Joan Jett, celebrating their iconic style; infusing Silver's vintage sensibility with Ciepluch's signature design elements.
"Walking into Decades is like entering another world – Cameron's world – and we are thrilled to share his unique point of view and exceptional style with the Nine West customer. This collaboration celebrates Cameron and Kate's mutual love for iconic punk fashion plus gives Nine West customers worldwide access to the latest trends," said Greg Clark, Chief Marketing Officer, The Jones Group.
Cameron Silver for Nine West is the latest in the brand's series of celebrated designer partnerships, which have included Karen Elson, Pamela Love, Sophie Theallet, and most recently Sarah Easley and Beth Buccini of Kirna Zabete.