NYC's Michael C. Fina Moves to New Retail Location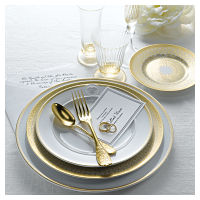 Feb. 25, 2013 – The 77-year evolution of the family-owned and operated retail destination Michael C. Fina continues, as the retailer has moved to 500 Park Avenue from its previously location at Fifth Avenue and 45th Street. The company began in 1935 as a silver merchant and has become known for its unique collection of engagement rings, wedding bands, and its wedding registry.
"We've set the tables of clients' grandparents, their parents, and now them. Our store spans three generations and so do our clients. We've become an icon to New Yorkers when they are getting married," said Steven Fina, President, Michael C. Fina. "We've become part of families' traditions, and not many companies can say that, especially retailers in Manhattan."
While many similar businesses have closed in recent years, Michael C. Fina has continued to grow and evolve. Couples, including first families and royalty, have been choosing its registry programs for decades, due to the concierge-level service and the exclusive designers offered, including Hermes, Bernardaud, Christofle, and Saint-Louis Crystal.
Michael C. Fina's Ring Gallery houses the largest selection of engagement rings and wedding bands on the East Coast from top design houses such as Tacori, Hearts On Fire, Mark Patterson, and Michael B. Classic and elegant jewelry pieces from designers like Temple St. Clair and Mikimoto are also showcased.
As the company continues to help New Yorkers build their own distinctive lifestyles, its new location in an upscale Park Avenue shopping area ensures that the company will continue its evolution for many future generations.