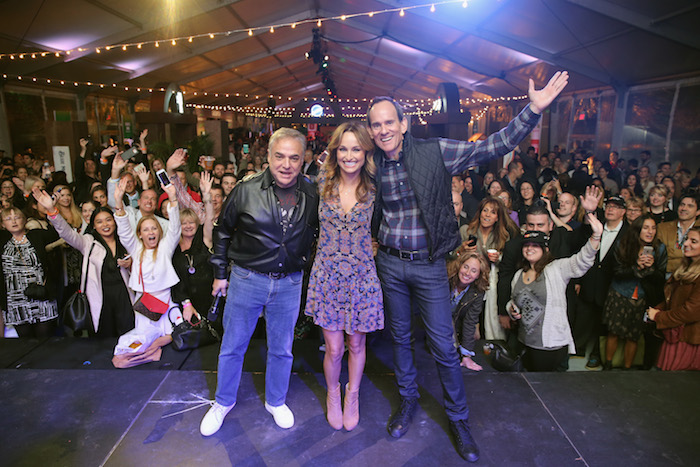 The ninth annual New York City Wine & Food Festival brings foodies together for three days of special events that benefit hunger-relief organizations.
By Stephanie Crets
The must-attend food and wine event of the year is quickly approaching. The ninth annual Food Network & Cooking Channel New York City Wine & Food Festival (NYCWFF) will take place Oct. 13-16 when more than 50,000 attendees can experience more than 90 food events throughout New York City, including special events in Midtown and Brooklyn.
NYCWFF welcomes 200 partners and nearly 500 chefs, winemakers, spirits producers and culinary personalities to participate in the weekend's events. NYCWFF offers a wide variety of events at different price points to fit anyone's taste and budget. Some of its larger signature events take place at Pier 92 and include Giada De Laurentiis' Italian Feast, Blue Moon Burger Bash hosted by Rachael Ray, a new event hosted by the cast of "Chopped" and Coca-Cola's Backyard BBQ hosted by Bobby Flay & Michael Symon.
In addition, returning to NYCWFF is the ever-popular Grand Tasting presented by ShopRite but with an update this year – for the first time ever, fans of all ages will be able to access its celebrity-fueled Samsung® Culinary Demonstrations presented by MasterCard® via a special ticket option.
"I'm excited about all of our new events this year, like the new evening event hosted by the cast of "Chopped" on Pier 92, our new partnership with People magazine, as well as hosting more events in Brooklyn – including working with new partners at VICE on the Best of Brooklyn, hosted by Action Bronson," Festival Founder and Director Lee Brian Schrager says. "Also, for the first time, we're giving fans of all ages the opportunity to see their favorite Food Network & Cooking Channel stars on stage with the introduction of the Samsung® Culinary Demonstrations Only Pass presented by MasterCard®."
Many of the NYCWFF's other returning events celebrate hot topics in the food industry, such as Tacos & Tequila hosted by Aarón Sánchez, Chicken Coupe hosted by Whoopi Goldberg & Andrew Carmellini – which moves to Brooklyn this year –Rock 'n' Roll hosted by Masaharu Morimoto and Midnight Jazz Breakfast hosted by Carla Hall and Patti LaBelle. Even more new events include Haute Dogs & Champagne hosted by Daniel Boulud, an interactive Boiling Point game hosted by Guy Fieri, a food and football-centric afternoon party called Wingin' It and Lucky Chopsticks: An Asian Night Market hosted by Andrew Zimmern.
But it's not all about sampling and experiencing the latest and greatest in culinary excellence. NYCWFF's goal is to end hunger and raise money for Food Bank For New York City and No Kid Hungry®. Since the festival's inception, it has raised more than $9.5 million for the hunger-relief organizations as 100 percent of its net proceeds go to them.
"The festival has something for everyone, and to fit any budget," Schrager says. "Whether you're looking for a large-scale tasting, more intimate dinner experience, educational seminar, late-night party or trendy brunch, the festival has an event to suit your style and taste buds."
For more information, visit www.nycwff.org.