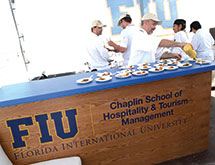 Two of the largest wine and food festivals in the United States are four-day, star-studded gatherings that showcase the talents of the world's most renowned wine and spirits producers, chefs and culinary personalities.
But behind the glitz and glamour of the two festivals are noteworthy causes and a school that were really the driving forces for creating these two events. "The goal was to create a world-class event and food festival that helped raise funds in Florida for education and in New York City for the hunger causes," says Lee Brian Schrager, founder and vice president of corporate communications and national events at Southern Wine and Spirits of America. "People have a great time, they get educated and meet great chefs and winemakers, but the bottom line that is most important is raising funds," Schrager adds.
The New York City Wine and Food Festival raises money to help fight hunger and the South Beach Wine and Food Festival donates its proceeds to help educate future professionals in the hospitality industry. All proceeds from each festival are donated to their respective causes.
To get people coming back and attract new attendees, both festivals are spicing things up this year by revitalizing fan-favorite events and hosting new ones. Chef Robert Irvine attends both festivals and says they are great opportunities for the industry to showcase its best. "From new products and trends to rising stars challenging the way we enjoy food, both events are great for fans and chefs to learn and enjoy," he says. "For me, it's all about having a chance to interact with the fans."
Helping End Hunger
The seventh-annual Food Network New York City Wine and Food Festival presented by Food & Wine was held Oct. 16 to 19 and offered more than 100 events throughout the city. The festival's most celebrated events included intimate dinners with world-renowned chefs such as Belgium's Kobe Desramaults, Italy's Dario Cecchini, England's Yotam Ottolenghi, Mexico's Enrique Olvera and France's Philippe Baranes, Christophe Boucher and Gregory Marchand. It also offered late-night parties, educational seminars and panel discussions.
The New York City Wine and Food Festival drew a crowd of about 55,000 passionate gourmands and aficionados and raised $1 million for the nation's leading hunger-relief organizations. "Eradicating hunger, both here in New York and across the country, is something we know we can always count on our talent and fans to support and we are excited to see what Lee Schrager and his team curate for next year's festival," says Brooke Johnson, president of Food Network and Cooking Channel.
To date, the festival has raised $8.5 million for the Food Bank for New York City and the Share Our Strength's No Kid Hungry campaign. Chef Alex Guarnaschelli attends both festivals regularly and says she teamed up with the No Kid Hungry campaign because she is a chef and a mother raising a child in America.
"My daughter goes to public school and I can see the impact breakfast – or lack thereof – has on children in starting their day right," Guarnaschelli says. "It affects, ultimately, their chances for starting their life right and working towards a bright future – a future where everyone eats breakfast and starts off the day with great energy for learning."
Guarnaschelli believes people in the food and beverage industry still have a great deal to learn about the fight to end hunger and the New York City Wine and Food Festival helps take a step in that direction. "We are a community infused in food that works better when we pool our efforts and effectively, 'share our strength,'" she adds. "Tag lines like 'eat, drink, end hunger' sends the message loud and clear. They delineate the problem clearly, and I believe it inspires people to join the cause."
Funding the Future
The 14th annual Food Network and Cooking Channel South Beach Wine and Food Festival presented by Food & Wine will take place Feb. 19 to 22, and offer more than 75 events, including new parties and talent along with updates to the festival's signature tastings.
"This is surely a year that our loyal fans will do a double-take at the program and new attendees will find plenty of events to choose from," Schrager says. "We have made significant changes to upgrade the experience at our signature Whole Foods Market Grand Tasting Village and are taking our beloved event, The Q, to the next level by partnering with Meatopia."
South Beach Wine and Food Festival's treasured celebration of all things grilled, braised and barbecued – Meatopia: The Q Revolution – will be held Feb. 21 and hosted by Guy Fieri, restaurateur, author and television personality for the Food Network. The Whole Foods Market Grand Tasting Village will include new features, such as additional seating and shaded areas, live music and DJs and select park-and-ride offerings.
Upgrading its events and showcasing new ones helps the South Beach Wine and Food Festival attract thousands of attendees every year and all proceeds are donated to the Florida International University Chaplin School of Hospitality and Tourism Management. To date, the festival has raised more than $20 million.
As a direct result of the festival's donations, Chaplin School built three new cutting-edge culinary and beverage management laboratories this fall to lead industry research and provide a revolutionary learning space for the next generation of students. Its new labs include a Wine Spectator restaurant management laboratory, a brewing science laboratory and a food production laboratory.