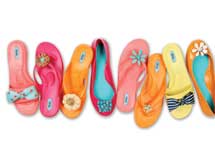 The team that manufactures and sells OKA b. shoes knows exactly what its brand stands for. Director of Operations Davar Irvani says the challenge for the company today is making sure that message is relayed to its customers.
"I've been with OKA b. since September 2012, and I came in as director of operations to help rebuild the company," Irvani says. "We are focused on rebuilding our sales team, redoing or marketing and refining our branding position."
OKA b. is the more fashion-forward counterpoint to its parent company Okabashi. OKA b. brings together form and fashion in an ergonomically designed shoe that's aesthetically appealing. Using the therapeutic principles of reflexology, OKA b. shoes feature footbeds enhanced with massage beads, ample arch support and sculpted heels. Using a proprietary microplast technology, OKA b. shoes are lightweight and flexible but still comfortable and durable. The colorfast machine washable shoe never fades, but when it's time for a new pair, the old ones are 100 percent recyclable.
"One problem that's a good problem about the shoe is that there are so many benefits that you can talk about," Irvani says. "The main features are the massage beads and ergonomically designed footbed. We have a designer that's a sculptor and artist and decided to do footwear design about 15 years ago. She very carefully and thoughtfully developed an arch and footbed to make sure it's as comfortable for every foot type as possible."
All of those features are integrated into a design that steers away from the traditional looks of orthopedic-friendly footwear. OKA b.'s objective is to ensure that consumers don't have to choose comfort over fashion or vice versa. The women's line in particular comes in a variety of colors and styles, from thong and slide-on sandals to ballet flats to wedged sandals that detract nothing from the shoes' functional features such as a non-absorbent material that is anti-microbial and resists bacteria, odor and mildew. Many of them are decorated with popular embellishments such as bows, jeweled accessories and beaded flowers.
"We have seen our shoes become more popular with younger groups but we aren't specific to any particular demographic that is our ideal customer," Irvani says. "We want to make the ideal product and relay to the consumers that we have an American-made footwear that's competitive on pricing with all of the imports. But we offer a higher quality and a more environmentally friendly shoe."
Unified Message
Irvani says the company is focused on relaying that message in a more powerful and consistent way. It is connecting with consumers via social media and attending tradeshows and other events. It also redesigned its website in January to better serve its trade and wholesale customers which includes gift shops, boutiques and spas that give OKA b. shoes to customers to wear and/or sell the shoes to customers. The company does sell directly to consumers through its website, but a separate trade website is dedicated to wholesale customers. The trade website includes information such as seasonal catalogs, helpful sales and merchandising tools and details on OKA b. showcases at events and tradeshows around the country.
"We redid the website in January specifically to make sure the wholesale message is communicated separately from the consumer message," Irvani says. "We also did it for consistent messaging. The colors, style – even how we write the name 'OKA b.' We are being more consistent across the board. From the colors on our new business cards to making sure our emails have the same font on it."
The brand consistency is necessary as its pool of wholesale customers begins to change. Irvani says because OKA b. has been around for seven years, its quality is well-established with long-time customers. It wants to make sure new customers hear the same message.
"Five years ago, the gift industry was a major portion of our business but the gift sector is declining and you see less and less gift shops," "Irvani says. "But with boutiques a more sophisticated buyer has emerged. We want to make sure that we have the right product in those stores and that starts with communication. I think we're seeing some success at that. We are starting to pick up some press and new accounts that are coming in at a good rate right now."