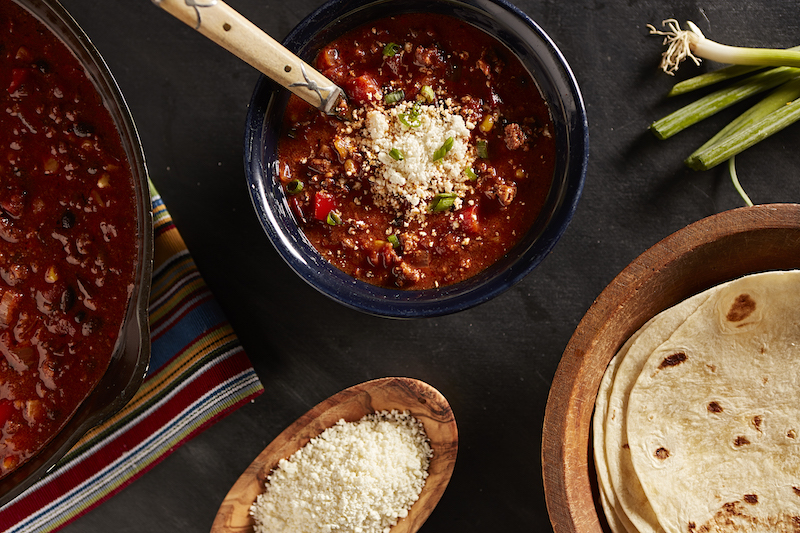 New products are on the horizon for Olé Mexican Foods as it rings in its 30th anniversary.
By Kat Zeman, Senior Editor at Knighthouse Media
One of the largest producers of tortillas and Mexican food products in the United States, Olé Mexican Foods is celebrating its 30th anniversary this year by introducing new products and initiatives. "One of our goals is to produce the most authentic Mexican-inspired products made with quality and freshness," says Edgar Moreno, president of food service. "Our objective is to create great food that brings families together at the table."
A nationally distributed leader in authentic Mexican food products, Olé Mexican Foods operates under four brands: Olé, La Banderita, Xtreme Wellness and Verolé. The Olé brand is famous for high-quality corn and flour tortillas, Mexican cheeses and chorizo. Xtreme Wellness, one of the company's fastest growing brands, focuses on healthier food options. La Banderita is known for traditional tortillas and chorizo and the company's Verolé brand offers authentic crumbling fresco cheese along with a variety of tortilla options.
Olé brands can be found on grocery shelves at national retailers such as Kroger, Meijer, Target, Sam's Club and Walmart, along with a variety of independently owned ethnic grocery stores. "Some customers may not be aware that they have tried our products when they visit a restaurant," Moreno says. "We also have a food service sales division. We supply to restaurants like the Cheesecake Factory and a several other national chains."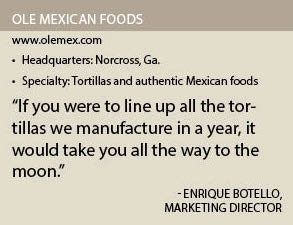 Coming Soon
It's been a busy year for Olé Mexican Foods – and it's about to get even busier. The company will be introducing a line of roughly 25 new spices and a few food products this year. "We have made spices with different combinations of pepper, combinations of flowers, like chamomile and hibiscus," says Enrique Botello, marketing director. Aside from chamomile and pepper, they'll be exciting combinations using chia seeds, oregano and guajillo chili peppers.
"We launched the spices in April with a very limited distribution and received a positive reception," Botello says. Aside from spices, Olé Mexican Foods is adding several new tortillas to its portfolio in October. Under its La Banderita brand, it will add a new line of organic tortillas and low-sodium tortilla – the result of growing consumer demand. In addition, a high-protein and gluten free corn tortilla will be added to the company's popular Xtreme Wellness line of products.
As part if its 30th anniversary, Olé Mexican Foods has also added an all-new Sprouted Whole Grains 8-Inch Tortilla Wrap to the Xtreme Wellness line. The new tortilla represents the company's continued commitment to providing high-quality, healthy options using the latest science to understand nutrition and healthy living. The sprouted whole grains wraps are the company's response to a growing demand for an alternative to traditional breads.
"Our Xtreme Wellness brand has been around for a long time," Botello says. "But it's our fastest growing line. I think a part of the attractiveness is that it offers whole grain, high fiber and low net carbs." As healthier alternatives to traditional foods become more popular, Botello expects the Xtreme Wellness brand to grow even more. "Also, with the growth of e-commerce, anybody can order it now," he adds. "We have online orders throughout the country from people looking for products with those characteristics. And we are gaining new distributors."
User-Friendly
On the technology side, Olé Mexican Foods launched a new website in May. "It's a complete different website than we had before," Moreno says. "We were looking to make it more user friendly, but also to convey the passion that we have for food and to share our unique story. We focus a lot on food and our products, but we also focus on how to bring families together through food."
The colorful new website features a "Build A Bite" tool that is designed to inspire people with new ways to make popular Mexican foods such as tacos, burritos and enchiladas. "It gives you an idea of what to make and how to make it," Botello says. "There's a section for recipes and we have some videos and a blog. It's very interactive."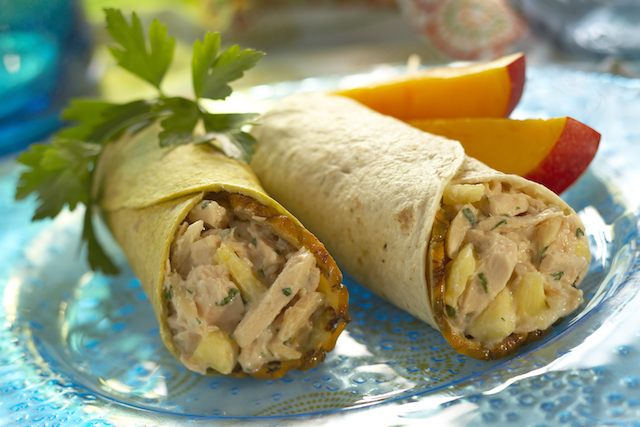 The revamped website also acts as an app when opened on a smartphone or tablet. Hall of Fame Aside from new products, Olé Mexican Foods has earned itself a spot in a hall of fame this year. The Tortilla Industry Association (TIA) has inducted the company's owners, Veronica and Eduardo Moreno, into its Hall of Fame in June.
A not-for-profit organization, TIA's members include tortilla manufacturers, industry suppliers and distributors and companies with interests in the rapidly growing tortilla market. The Hall of Fame induction took place during the 2018 TIA annual Convention and Trade Expo in Desert Springs, Calif. Members of the TIA Hall of Fame were recognized for demonstrating a level of cooperation and leadership within the tortilla industry.
Many of the honorees have grown large successful companies from humble origins and family collaboration. The TIA recognized companies that made substantial contributions to the tortilla industry through research and innovations — helping the industry as a whole grow and succeed. "We are very proud to have been recognized by the Tortilla Industry Association in this way," Olé Mexican Foods Founder Veronica Moreno says. "It is always exciting to be recognized by your peers for the hard work we do to grow and improve our industry. As we look over the names and companies that have received this honor in the past, we are reminded of how far Olé Mexican Foods has come in such a short time."
Humble Beginnings
Founded in 1988, Olé Mexican Foods has a long history of balancing traditional ingredients and processes for making its famous tortillas while also implementing innovative new products and efficiencies. From the company's classic white corn and flour tortillas to its Xtreme Wellness line of "better for you" wraps, Olé Mexican Foods has been a major influence on the success and growth of the tortilla industry.
According to the TIA, annual sales of tortillas in the United States exceed all other ethnic and specialty bread sales, including bagels, croissants, muffins and pita bread. Olé Mexican Foods has helped those sales. "If you were to line up all the tortillas we manufacture in one year, it would take you all the way to the moon," Botello says. "We did an estimate and we produce enough tortillas in a month to get you from the United States to Tierra del Fuego in Argentina."
Headquartered in Norcross, Ga., Olé Mexican Foods got its start when Veronica Eduardo Moreno began making and selling authentic tortillas to local families in Atlanta, where they were living at the time. Today, company is a nationally distributed leader in authentic Mexican food products with seven manufacturing facilities in the United States. The company has two tortilla plants in Atlanta and one in Texas and California. It has a cheese plant in Tennessee and a meat plant and a baked goods facility in Atlanta.