Omnichannel Expert Michelle Bogan Joins Kurt Salmon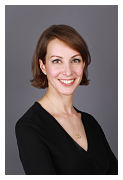 June 4, 2013 – Management consulting firm Kurt Salmon is pleased to welcome Michelle Bogan as a partner in its Retail and Consumer Products Group. Ms. Bogan is an expert in developing and implementing transformational retail strategies, including omnichannel, consumer analytics and localization, and has helped numerous department stores and specialty retailers around the world. She joins Kurt Salmon from Macy's, Inc., one of the world's leading retailers, where she led omnichannel strategy and process development for Macy's and Bloomingdale's.
"Having a strong omnichannel capability can be a huge competitive advantage, but getting there can be a significant challenge," Ms. Bogan said. "At Kurt Salmon, I look forward to helping my clients determine the best approach to satisfying their customers across and within channels to drive profitable growth."
Before joining Macy's, Ms. Bogan was a partner at Kurt Salmon, where she led the firm's consumer insights work, including building a methodology to integrate consumer research into strategy, merchandising and pricing work. Prior to that, she worked at The Walt Disney Company doing product development in the Licensed Consumer Products division. She was named Woman of the Year in Retail by the National Association of Professional Women and was recently inducted into the Worldwide Who's Who for Excellence in Retail Analytics.
Madison Riley, head of the firm's Retail and Consumer Products Group in North America, praised Ms. Bogan's track record of delivering high-value results.
"We're very excited to welcome Michelle back to Kurt Salmon," he said. "She will help our clients navigate a constantly changing retail environment, strengthen their operations and develop overall strategies for growth."