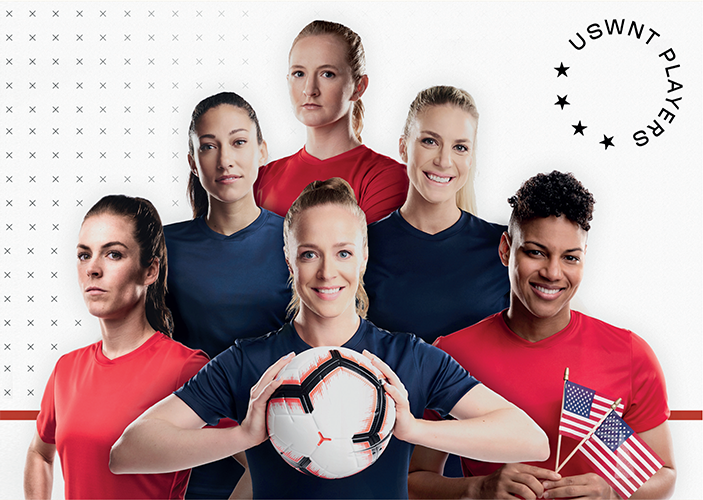 License to thrill
OneTeam Partners is a one-of-a-kind solution, designed to help athletes get the greatest possible value from their name, image, and likeness rights
Aligning with world-class Players Associations, OneTeam Partners helps athletes maximize their name, image and likeness (NIL) rights by focusing on four key areas: group licensing, athlete marketing, content and venture investing.
Group licensing is where OneTeam Partners particularly specializes – to elaborate further on this, group licensing is when athletes come together and leverage their collective NIL to get deals done with brands. It is how athletes get included and compensated for the use of their NIL in video games, and on trading cards, jerseys, NFTs and other merchandise.
Retail Merchandiser speaks to Nick Fisher, VP of Retail Development at OneTeam Partners, to get further insight into the company and how it works with its clients to deliver maximum value. "We launched as a joint venture between the NFL Players Association (NFLPA), MLB Players Association (MLBPA), and RedBird Capital Partners to maximize the collective value of athletes' rights," he begins. "We represent a range of commercial business interests on behalf of the athletes of the NFLPA, MLBPA, MLSPA, United States Women's National (Soccer) Team Players Association (USWNTPA), WNBPA and U.S. Rugby PA, and we also have several collegiate partnerships.
"Just two years since launching, the company is valued at $2 billion and has proven successful in its mission to transform the way all athletes participate in business by putting them squarely in the center of the commercial ecosystem. Its business performance has underscored the immense value of athlete rights and is proof of the power of the collective across sports."
With licensing as its core business, OneTeam Partners works to maximize the value of athlete name, image, and likeness across a wide variety of product collections. "We represent the group rights of athletes in categories like digital games, trading cards, apparel, merchandise and more," explains Nick. "We also work across other business verticals offering a full suite of marketing solutions that help create authentic relationships between athletes and brands – delivering integrated and turnkey solutions for sponsorship, athlete marketing, content, and digital marketing."
Sports Licensing and Tailgate Show (SLTS)
The licensing team at OneTeam Partners can draw on the experience and knowledge gained over a long history in the industry. "We've worked for, and with, some of the most powerful sports companies and brands in the world, including the Collegiate Licensing Company, adidas, the NFLPA, the US Olympic Committee, and others," agrees Nick. Creating and nurturing these kinds of relationships is an ongoing activity at the business, and something that has recently experienced additional challenges, thanks to the trials wrought by Covid-19. Therefore, now that events such as the Sports Licensing and Tailgate Show are back on the agenda, Nick and the team are keen to return to the exhibition halls, have face-to-face discussions and reestablish that personal connection. "There is tremendous value to reconnecting in person at SLTS again – the show is a great place to foster relationships and continue to educate the industry about OneTeam and the work we are doing on behalf of athletes," Nick confirms.
"While we will not have a booth at the show, our entire licensing team will be in attendance this year," he continues. "SLTS is pivotal in our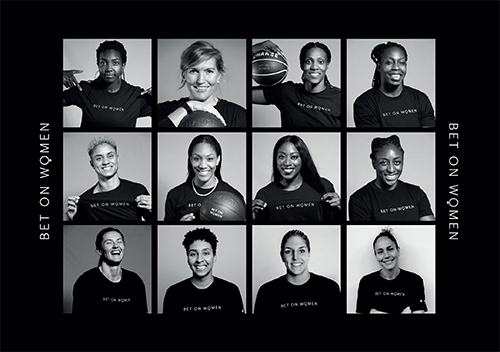 effort to connect with licensees and retailers and, among other things, build momentum towards the Women's World Cup 2023. OneTeam Partners represents the commercial licensing rights for the USWNTPA and, as the popularity of soccer continues to grow, all indications are that consumer demand for licensed products will be at an all-time high as we head into the World Cup.
"Licensees and retailers need to get ready now for what we forecast will be a high-water mark for licensed product sales during any women's sports event. The World Cup is a short 500 days away! We understand product timelines and want to put licensees and retailers in the best possible position to take advantage of the moment and movement. The US Women's National Team players are some of the most influential and powerful athletes in the world. They will be making a run at their fifth World Cup title."
2022 will also see other industry and category specific events such as the Licensing Expo hit the calendar for OneTeam Partners, where Nick noted that the business will likely have a presence.
An additional benefit, The Sports Licensing and Tailgate Show will offer an opportunity for staff from OneTeam Partners to continue to build on the successful relationship the business has established with Panini America. Trading cards are a key category for all the athletes that OneTeam Partners represents, and as it endeavors to bring the group licensing model into college, it has prioritized this partnership with Panini. "Panini is the exclusive college trading card partner for more than 200 schools and layering on current college athlete name, image and likeness in future releases will create new and valuable products," clarifies Nick. "The group licensing model is essential in bringing broad-scale licensed product programs, like trading cards, video games and jerseys, to market for athletes across schools and sports."
As the market continues to advance for licensed products related to sports, Nick points out that alongside physical products such as trading cards, digital collectibles (non-fungible tokens or NFTs) are also growing in popularity. One particular standout product in this area was launched in August 2021, when WNBA Moments debuted on Dapper Labs' Top Shot platform with incredible success. "Our partners at the WNBPA are incredibly excited about the early returns, the amazing exposure, and the player integration into what is a burgeoning category in the sports licensed industry," observes Nick
"OneTeam facilitated the deal on behalf of the WNBPA and its players, and we continue to work closely with Dapper Labs to maximize the opportunity and product offering.
"Our digital/games licensing experts remain dedicated to innovating in every way possible and have masterfully combined the powerful NFT market with the established group licensing world, and that intersection has come to life in a major way with the WNBPA and Top Shot."
As the online side of the market continues to grow, and new sports increase in popularity, OneTeam Partners' ability to stay ahead of the curve enables it to help its partners navigate an evolving landscape. "Thanks to our work across sports and our wide-ranging expertise we increasingly find ourselves at the center of a lot of discussions within the sports licensed and sports media industry," concurs Nick, before revealing a significant area of growth at the moment. "One of those important discussions centers around supporting the growth of women's sports, and we know that we can play an important role through licensed products. We are calling on all of our partners to lean into this opportunity."
With the Men's World Cup scheduled for November 2022 and Women's World Cup the following year, the sports licensing market is looking ahead to an exhilarating 24 months. Reflecting this, Nick and his team have ambitious growth plans on the agenda. "We hope to both add new partners and grow the business for our existing partners in 2022," Nick reveals. "We are also working to bring the group licensing model to college athletes. Furthermore, because of the rights we represent and the relationships we have, we will continue to shape major categories, like trading cards and video games.
"We also must emphasize that 2022 is an incredibly important year for OneTeam Partners and the USWNTPA, as mentioned before. There hasn't been an opportunity in women's sports quite like this one, as we work to innovate in the licensed product space heading into World Cup 2023."
From speaking to Nick it is clear that OneTeam Partners prides itself on putting athletes first, and making them a priority – it wants to transform the way all athletes participate in business. Nick identifies its business model as a true differentiator from other firms in the same market. "We are the only company in sports that specializes in the collective licensing rights of athletes," he states. "Plus, we provide brands with broad-based, unbiased access to athletes."
By continuously developing authentic relationships between athletes and brands, OneTeam Partners remains firmly fixed on its goal – to help athletes around the world maximize their collective value. v
https://joinoneteam.com/