Online Retailers Missing Opportunities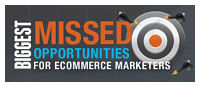 Nov. 12, 2013 – Global e-commerce companies are missing significant opportunities to improve the effectiveness, reach and return of their marketing and sales programs, according to a new survey of 160 global retail organizations conducted by SLI Systems.
While the survey shows online retailers' top priorities for 2014 are their e-commerce platform, site search and SEO, followed closely by mobile and customer-focused analytics, still 57% admit to not utilizing their site search reports and information to enhance marketing programs. Only 25% of retailers say they integrate site search data into email marketing campaigns to better customize offers for customers, with 27% creating SEO landing pages populated with site search results and custom banners, 13% taking advantage of site search to power mobile search, and only 11% integrating site search with various social media channels to improve amplification.

Half of respondents say they are not doing more with site search to enhance marketing and sales programs due to limited resources, while nearly 30% say they just aren't sure how to do it, and 10% cite their existing site search solution does not allow for integration with marketing programs.
SLI Systems customer Jelly Belly knows firsthand how important site search can be to the efficacy of marketing programs. The gourmet jellybean and candy retailer uses on-site search data to ensure the appropriate top-searched keywords are incorporated in press releases, advertising and marketing materials. In addition, Jelly Belly uses site search merchandising capabilities to tune results and create landing pages for customized product groupings. For a Cinco de Mayo promotion, for example, Jelly Belly grouped various beans together to create "recipes" for tres leches cake and Mexican hot chocolate. The company then uses the URLs of those dedicated landing pages for display advertising, retargeting and email campaigns. They also dropped a banner tool onto that page to tie the promotional assets from the email or banner ad to the landing page so it all makes sense. The result was an 85% increase in open rates for direct mail campaigns.
"Retailers know site search is a must-have element of any online business approach. But they should also be aware of the rich benefits site search can provide to marketing and sales strategies," said Geoff Brash, co-founder of SLI Systems. "Using the right site search solution, retailers can glean valuable insights on visitor habits and buying behavior to help them deliver a richer user experience – which, in turn, encourages a purchase."
While half (50%) of retailers are not using site search data/analytics to enhance any of their business offerings or processes, 28% are making smarter decisions related to inventory selection using site search data, 26% are using site search data to enhance customer service and 18% are using it to augment predictive analytics practices.
When asked which site search features they have already implemented to augment the relevancy of results, the majority of retailers cited they have not implemented features such as Auto-complete with graphics (55%), Mouse-over pop-ups (59%), Personalized Search History (64%), Refinements (43%) or a Floating Search Bar (80%). Most retailers are merely relying on site search features they 'do' have like Auto-complete (62%) and Refinements (43%) to do the job, a significant 'miss' for these retailers.
The good news is, nearly half (47%) are planning to change their ways – and will work to incorporate more features, functionality and data gleaned from site search to enhance marketing programs in the coming new year. And, 37% say they will work to do more with site search to help their marketing efforts during the 2013 holiday season.
The majority of retailers understands and is seeing significant results from their site search pages with 40% saying their site search pages convert at a 2-4x higher rate than standard navigation pages.