Different Approach
The value proposition for Orchard Supply Hardware is very distinct to that of the large-scale hardware retailers and local independents. Its core competencies are paint, repairs and backyard products, allowing the company to occupy a niche focused on a broad product assortment of greater than 35,000 items in the categories it carries. Additionally, OSH strives to maintain a tradition of what it sees as legendary customer service.
"Our focus is on a convenience opportunity in paint, repair and the backyard," says Tellier. "We respect the traditions and history of the small independent, as we believe they offer their own unique value to consumers."
The company's goal is to truly operate as a neighborhood hardware retailer guided by the philosophy, "Take good care of customers and they will take good care of you." When considering new regions, Orchard Supply Hardware looks for areas where its stores can make an impact where other hardware stores cannot. The company is committed to becoming ingrained in the communities it serves, and it is excited at the prospect of establishing roots in new neighborhoods as it continues to grow.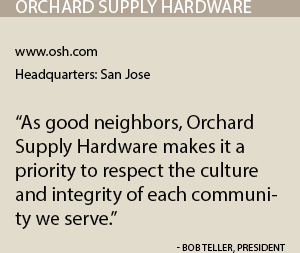 "We offer more than what we have on the shelves," continued Tellier. "Customer loyalty programs and in-store services are part of what bring our neighbors back time and again. We provide real-life resources for your home such as key making, rescreening damaged window or door screens at our Workbench and even free knife-sharpening services at our new and remodeled stores. We offer a lifetime plant guarantee and even pot them for customers at our potting station while they shop for the rest of their lists."
Through frequent storewide community events, Orchard Supply Hardware establishes each store as a valuable community resource. These include drought clinics, drip irrigation workshops and emergency preparedness tutorials where shoppers receive hands-on product instruction and valuable takeaways from in-store experts.
Equally important to the company's success is building strong vendor and supplier relationships. Throughout its transformation over the last five years, Orchard Supply Hardware's supplier community has been deeply involved and completely supportive. The company says its culture is set up in such a fashion that it can view every supplier as a true partner in its growth and success in delivering upon the Orchard Supply Hardware mission to be America's neighborhood hardware store and destination for paint, repairs and the backyard.
Elaborating further, Tellier says, "Our merchant teams and senior management engage regularly with all of our suppliers in a cooperative effort to ensure communication channels are always open. Our suppliers support every grand opening and keep the merchants abreast of product and industry developments. The Orchard team provides feedback on product performance and Orchard growth plans. We are extremely proud of the support we have received from our partners and we realize that communication is a two-way street. We take our responsibility in this partnership very seriously."
Forging Ahead
As the company looks to continue to build off of more than 80 years in business, it is focused on making key investments in its future while also staying on top of the main trends that are currently shaping its industry. For example, Orchard Supply Hardware is focusing on bringing its innovative shopping experience to more urban markets while maintaining the same level of customer service that its shoppers have relied on for so many decades.
"Our company is providing added value to more urban areas by offering goods and services that specifically cater to small-space living," Tellier says. "Just last fall, we opened a compact store concept in San Francisco's North Beach area. We're also continuing to expand outside of the West Coast, which means expanding into new markets with the Orchard Supply Hardware brand."
As it continues to grow, Orchard Supply Hardware places a high value on engaging with and developing an open dialog with its new neighbors. Insight from the local community is critical to the success of its long-term strategy, especially in areas that are not familiar with the brand. By remaining steadfastly committed to the neighborhoods it serves, OSH believes it can look forward to introducing new customers to its product selection, legendary customer service and top-notch customer experience.
"We engage with our customers in areas that truly make their lives better," says Tellier. "As good neighbors, Orchard Supply Hardware makes it a priority to respect the culture and integrity of each community we serve."