Owned by the Harris family for over 50 years and dubbed the world's largest store of its kind, Furnitureland South is keen to prove that when the going gets tough, the tough get furnished
Improving the customer journey
When the pandemic first hit, no one knew what it was going to mean for us personally or professionally," begins Jeff Harris, President and CEO at Furnitureland South, a 1.3 million-square-foot one-stop shop located in Jamestown, North Carolina that caters to every possible furniture need with more than 1000 partnered manufacturers.
"The dialogue at the time was prescriptive and focused on what was or was not essential," he reflects. "Try telling someone what they do is not essential; it is tough. In all, however, we had to furlough staff for about two weeks – before we knew it, business rushed back to an all-time high in 2021. Since the beginning of the pandemic, we have grown by more than 50 percent; in the last year, that translates to $70 million. Though we are now seeing a bit of pull back due to inflation and skyrocketing living costs, the real estate market in the southeast is still in high demand. Therefore, as a leader in the furniture industry, we can expect to buoy ourselves on that continuous wave of business."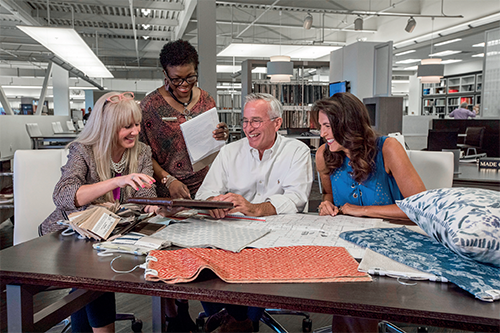 "One interesting thing that happened during the pandemic was that we adopted the role of a stock-buying retailer," adds Becky Greene, Executive Director of Merchandising at Furnitureland South. "Previously, we had largely been a special-order retailer; however, we had to dramatically adapt our operations to prepare for consumer demand amid the supply chain issues that were crippling the industry. We bought stock in an aggressive fashion and maintained on-time delivery for customers. Reflecting on the past two years, that is certainly one of the high points; we handled the pressure incredibly well and were able to supply products and fulfil orders when a lot of retailers were stuck on pause.
"It is probably fair to say that, throughout the Covid-19 crisis, we were the number one customer for our top 100 suppliers," she continues. "Interestingly, most of those suppliers are local to us in North Carolina. With our buying power and 500-strong workforce, we really supported multiple factories in our state and rallied together as one massive team. It almost felt patriotic! Naturally, because of this, we had a priority position with our suppliers. They could rely on us for financial stability; we could rely on them for the on-time manufacturing and supply of furniture."
Indeed, depending upon the perspective taken, the pandemic period – and the brief moments of reflection that it quietly offered – were not all doom and gloom. For some, those moments could be transformed by the mind's eye; metamorphosed into a corporate springboard, companies could recalibrate and improve – that is, they could imagine and then action a plan for a better post-pandemic future.
Furnitureland South is no different. "We are driven to create a world-class shopping experience for clients and customers," says Jeff. "In the retail environment, you must have the heart to serve people, and so that is a motivating factor behind our ethos of continuous improvement. We care about the journey our customers are on; if we can improve it by making some changes, then we must make them. To that end, we have our World-Class Council, which is a committee of nine individuals from various departments that are tasked with investigating every pinch point along that journey and finding solutions to resolve them.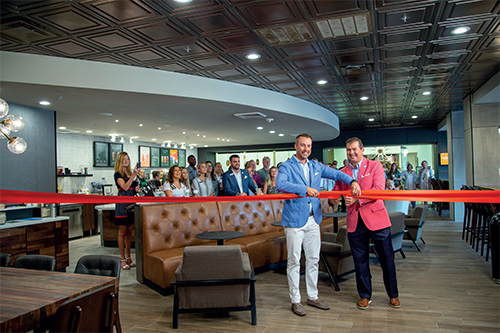 "It could be better communication; it could be better customer service," he goes on. "But, in the end, it is all about the continuous state of betterment. For instance, we have just launched a new website and are in the process of refining our in-store experience. By improving that customer journey, we stand to benefit in terms of profit; however, the incredible people who make Furnitureland South what it is will also reap the rewards. The whole company feels more like a community as a result, and this has been recognized across North Carolina, where we are consistently rated as one of the best places to work in the state."
"One aspect that we are currently improving is our digital presence," explains Blair Ingle, Executive Director of Sales & Marketing at Furnitureland South. "As a leading furniture retailer, we must strive to showcase an abundance of fresh and inspiring products, whether that is through our online chat, through our website, or through video conferencing services like Microsoft Teams. We want to give people the chance to explore the best the industry has to offer and what we have on display online and in-store – and being able to do that remotely is key. Though online shopping can be convenient, seeing products in person will always offer an additional wow factor to an already inspiring piece of furniture and create a more dynamic purchasing experience."
As our interview has made clear, the wheels are in motion at Furnitureland South – and the destination at the end of that driving force is a moving target. After all, continuous improvement is a perpetual mission. It does not end. But then neither does the journey of customers.
"In the short-term, we will continue to focus on getting better despite the challenges we are experiencing, particularly with the economic downturn and supply chain disruptions," concludes Jeff. "We must find ways to overcome them. It is a puzzle. All the pieces are there – we just have to figure out a way to put all of them together. That will inevitably involve different strategies; however, these will all point to one thing: a world-class customer journey. Looking further ahead, we will endeavor to grow profitably. If it means opening another distribution center in another state, then we will do that; if it means developing our physical presence with more showrooms and design centers, then we will do that as well. Whatever it takes, we have the resources, personnel, and leadership to make it happen."